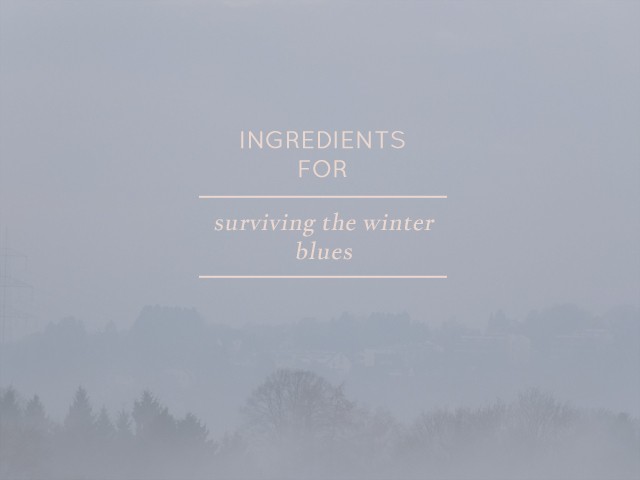 February. Definitely not my favourite time of the year. Everything's grey and cold and you don't even want to leave the house. There are days that I'm actually looking forward to going back to bed in the evening from the minute my alarm clock rings in the morning. Definitely not cool. If it was possible, I'd definitely move to California or Mexico, at least for three months. Well, since that isn't possible and I don't want to continue wishing my days away I've come up with some ideas, how to brave this time of year.
1 |Eat mood food. I don't really understand it, but there are some kind of foods, that actually make you feel better and have a more positive outlook on the day. That's because they force your body to produce serotonin (which in turn makes you happy). The best known examples are bananas, dark chocolate and pasta, but other great examples are nuts, oats, potatoes, lentils, chicken and eggs. Don't even think about dieting (the good thing about winter is that you can hide those extra kilos under your sweaters ;) and just get whatever you'd like to. Don't over-indulge too much though: Feeling sick and having an upset stomach isn't going to make you feel better as well.
2 | Take a long walk outside. Even if the sun isn't shining, just half an hour outside helps you feel calmer and happier. Your metabolism needs light to be encouraged and work properly and artificial light just isn't enough. And I don't know about you, but somehow I often feel as if I have achieved something, even though I just took a walk.
3 | Exercise. Not to lose weight, just for fun. Do something relaxing, like Pilates, a dance workout or whatever else you are into.  Get those happy endorphines going! I'm really into swimming lately – I go in the morning when there's nobody but me and some retirees. It's really relaxing and easy not to think about anything (and I'm not even a good swimmer).
4 | Meet up with friends. Old and new. You probably all agree, that the world looks easier when you're with your best friends (or your family). Catch up with those people you haven't seen in a long time, get inspired by their stories and just soak up the good energy. Repeat as often as possible.
5 | Create. Again, do whatever you enjoy the most. Paint, draw, cook or bake. Don't try a DIY with twenty steps at which you  might fail (and which will make you feel even more frustrated afterwards). Just try something easy, a fool-proof recipe or just let your creativity take you anywhere.
6 | Learn something new. This will help you not feel as if you're just wasting your days away, waiting for better ones to come. If you're motivated, take a Skillshare class. If that's too much, why don't you sit back on your couch with a cup of coffee and a blanket and listen to some Podcast (I really like the BBC Great Lives and World Book Club). Or turn on an educational program on the TV (or a documentation). Learning doesn't always mean aquiring a new skill.
7 | Get enough sleep. This sounds easier than it is, but it's so essential. If you've slept enough, you have more energy to deal with anything the day throws at you and just a generally more positive outlook on the world.
8 | Laugh! Watch a funny or cute movie (I recently finished watching Happy Endings and loved it). Put tip number four into practice and share some jokes with friends. Host a fun game night. Go to a comedy show if you're into that kind of stuff (I'm not by the way ;).
9 | Treat yo self. Go to the coffee shop and have that delightful and expensive macchiato (and the cake!). Take a long hot bath. Light some lovely candles. Read a book that isn't intellectual or anything, but just plain fun (I can recommend The Lost Art of Keeping Secrets – the best book I have read this year). Have a glass of wine. Get that dress you have been eyeing forever. Make some healthy smoothies and feel good inside and out. Just give your soul a little break and enjoy every little moment.
***
What about you? What are your favourite ways to survive February?
12 Comments