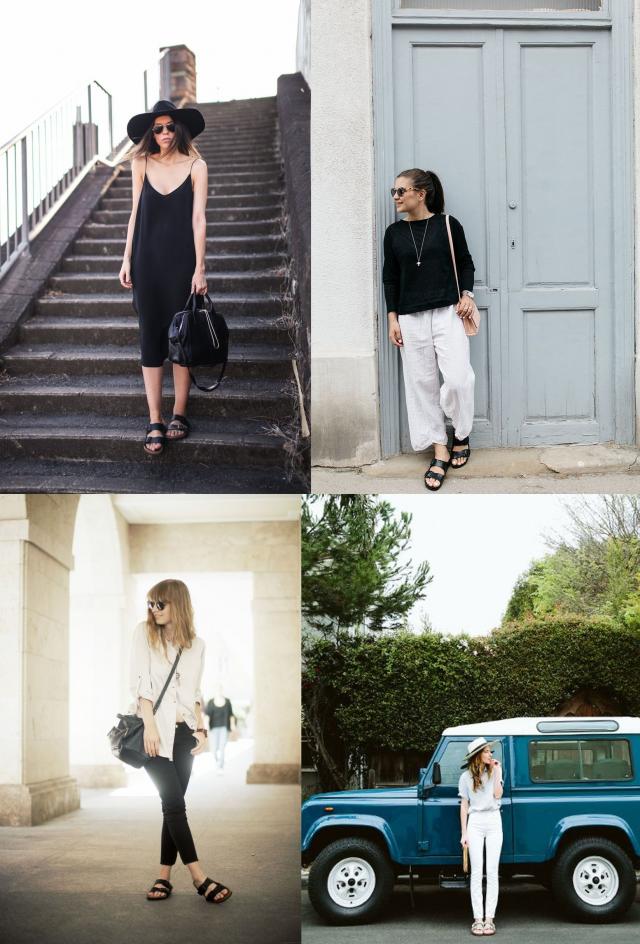 That is the question.
Yeah, I must admit: I'm thinking about buying a pair of Birkenstock's. After mocking my mom for wearing hers for ages and thinking that they must be the ugliest shoe on the planet (next to UGG boots), I am a victim to fashion once again – I started liking the classic Birkenstock sandals this summer. From a neutral point of view, that's even a good thing: They are comfy and good for your feet. They are produced in Germany (local!), you have the option of buying vegan ones and the company puts high value on protecting the environment and using solvent free glue and adhesives. There's even a repair service to take care of your worn shoes and reduce waste. From a fair fashion perspective, the Birkenstock trend is definitely a practical one. But still, they are our moms, dads and dentists favourite slippers!
What do you think – Birkenstock: yay or nay? Maybe some nice brown Arizona or shiny black Madrid's?
Photo credit (from top left to bottom right): Modern Legacy, Dariadaria/Maximilian Salzer Photography, Just Another Fashion blog by Lisa Dengler, Hannah Henderson for Madewell blog.
10 Comments