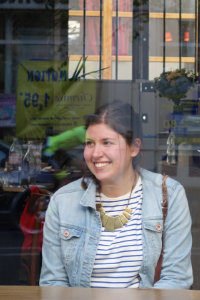 Hanna's Places is a green lifestyle magazine about living beautifully – without harming the environment or the people around us. Join me on my journey to a sustainable and simple life!
Categories
Community
Culture
Fair fashion
Food
Minimalism
Personal
Sustainability
Travel
Wellness
A green lifestyle magazine
Hanna's Places is a green lifestyle magazine for everyone who wants to live a more sustainable and eco-friendly life.
Do you want to take little steps to live more consciously? I will tell you more about fairtrade products, fair fashion and a green lifestyle in general.  In my opinion, life should be about moments shared with friends, endless laughter, memories, creativity and adventure.
I started writing Hanna's Places in the spring of 2013, wanting to share exactly that. In this green lifestyle magazine, you will find tips on how to live a more conscious life. You'll find little ways to do your bit to make this world a better place. Read stories of long-loved pieces of clothing, travel tips and ideas how to get everywhere with only a backpack and some dreams, books I've loved – everything that makes life so full and vibrant.
Or maybe you want to find out how to buy more consciously and get a few fair fashion tips? Start browsing and get to know my favourite fairtrade brands. I will also tell you the story of how I changed my shopping habits – and how you can, too!
I am so happy to get to know you and help you to just start doing. Spend a quiet evening at home or a relaxed Saturday afternoon, make some coffee (if you start reading you'll know it's one of my favourite drinks), cuddle up with a blanket and some tea and start reading! I am really looking forward to your feedback, so let me know what you think!