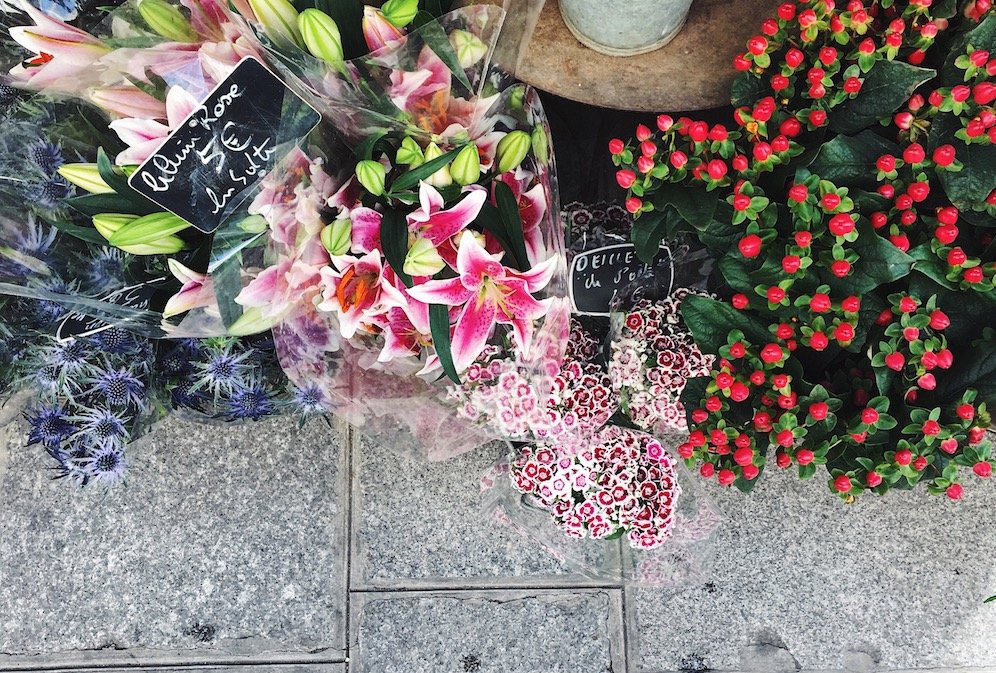 I'm ready for Spring. I want to sit outside again, enjoy a drink with friends or read a book and not wear 10 layers of clothes. I'm in Paris at the moment (as you might have seen on my Instagram) and the sun was out almost everyday – it feels like bliss.
What I'm looking forward to this Spring
+ Going on city trips. For some reason, Spring is the perfect season for that! Winter is too cold, summer too hot and in autumn I just like to get cosy at home. Do you have any fun trips planned this season? I'm going to the Netherlands and London (finally, again!).
+ New outfits! Every year by the end of March I get really bored with my wardrobe and wearing coats all the time. Now that Spring is here I'm ready to mix it up again! I'm dreaming of fair fashion outfits like the one above: Blush Veja sneakers, a mom jeans, a light blouse and sun glasses.
+ Filling my house with plants. I only own a few succulents, but I really want to fill my house with more flowers and plants. I've started reading up on which plants are good for your room climate and a trip to the store is in order very soon.
+ Getting out my bike again! I've been lazy all winter and have taken the train, but it's actually so much nicer to take my bike along the Rhine river and workout without even noticing.
+ Visiting new restaurants, cafés, shops, you name it. I don't really feel like going out to new places in winter – it always feels like the day is over as soon as the sun sets at 6 pm. Now that Spring is around again, I'm ready to work on my list of places to see around Bonn and Cologne. Any tips where to go if you're a local?
+ I scream ice cream. I didn't eat nearly enough ice cream last year – that has to change this year ;) There's a great shop just around the corner from my home and I went only once so far!
+ Sitting in the park reading books. For some reason, reading is even more fun while sitting outside, right? And you get the added bonus of (a hint of a) tan as well. On my reading list I have the new Jami Attenberg novel and a few collections of essays.
+ Flea markets. Obviously.
What are you looking forward to this Spring? Any fun plans?