As some of you may have noticed from my previous posts, I love breakfast. I guess every country has it's own breakfast traditions, and in Germany we like to get freshly baked buns for our Saturday morning breakfast. Pair it with some strawberry jam, scrambled eggs, a glass of orange juice and a big mug of coffee and I'm practically in breakfast heaven. We always buy our buns from the bakery in the morning, but I have been wanting to try and make my own ones for ages. Well, now that I did I can tell you: They are really good! I made them a little bit healthier with whole-grain flour, but I guess you can totally use white flour as well. Just let me warn you: This is not a fast project or something you can whip up in the morning before breakfast! It's not a lot of work, but because you have to proof the yeast quite a few times. I prepared mine while I was doing some work at home, on a rainy day with some great records playing in the background. It was perfect.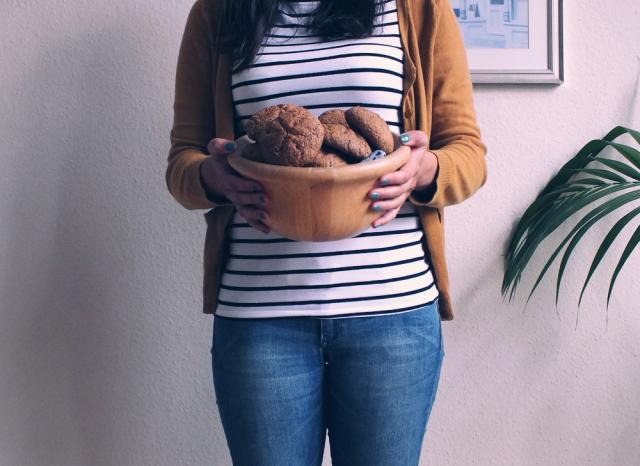 Ingredients: 500 g flour (whole-grain or white), 350 ml lukewarm water, 25 g yeast, 2 spoons salt, 1 spoon sugar.
Put the flour and the salt in a bowl and form a dent in the middle. Crumble the yeast and the sugar in the dent. Put as much lukewarm water in the dent that the yeast can start to dissolve. Cover the bowl with a sheet and put it in a warm place for half an hour.  Then put in the rest of the water and knead for about ten minutes. Again cover the bowl with a sheet and put in in a warm place for two hours. Knead again for about five minutes. Put it back in the warm place for another two hours (I told you it takes quite some time!). Divide the dough into about eight parts. Put them on your baking sheet, cut little patterns if you want to and brush them with some saltwater. Wait another thirty minutes, then you can put them in the oven at 220° C for about 20-25 minutes. A little tip: if you put in a bowl of (salt)water as well, the crust will be extra-good! Bon appetit!