After talking about all the great benefits of plums in yesterday's post, I thought that I just had to introduce you to one of my favourite ways to use all the plums we have on our trees – plum cake. I know baking cake probably isn't the healthiest way to go, but boy does it taste good! I've practically lived of my grandma's (and my) pie in the last few weeks – I had it for breakfast yesterday, for dinner on Saturday, you get it. And if you consider me crazy now, you won't after you have tried this recipe!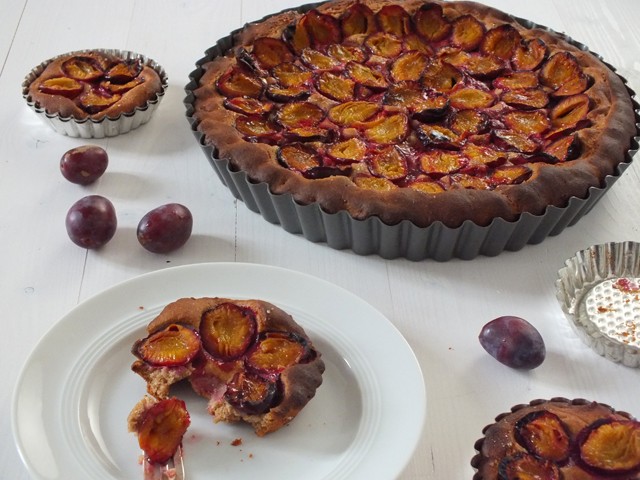 Ingredients: Plums (obviously), 500 g flour, 250 ml milk, 75 g sugar, 75 g butter, 1 cube of yeast, 2 eggs, a bit of salt.
First of all, you put the flour with the salt in a bowl and form a small hole in the middle. Put the yeast into the hole, then slowly add the warm milk. Slowly mix in the sugar, the eggs and the soft butter and knead everything for about ten minutes. Cover the bowl with a cloth and put it in a warm place for about half an hour up to an hour. After you've waited, knead the dough again (this makes it extra soft). Put it in a baking form and decorate it with the plums (after cutting them in halves). Bake everything at 180° C. Best enjoy warm with some vanilla sauce!
PS: This one is a little on the darker side since I used wholewheat flour, both whole-wheat and white flour are fine though!