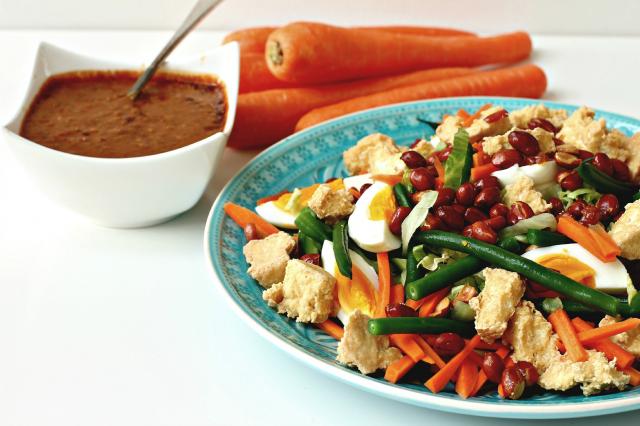 Today I'm happy to welcome Jennifer with yet another delicious looking recipe to the blog.
The other day I told you that I loved carrots in every variation possible, but I never had something resembling this salad before. I definitely want and need to change that, because this dish looks absolutely amazing! I can imagine preparing a large bowl of salad and bringing it to a fun evening with friends (or maybe as a side dish for this year's Thanksgiving dinner?). Click through for the recipe, and tell me what you think if you tried it!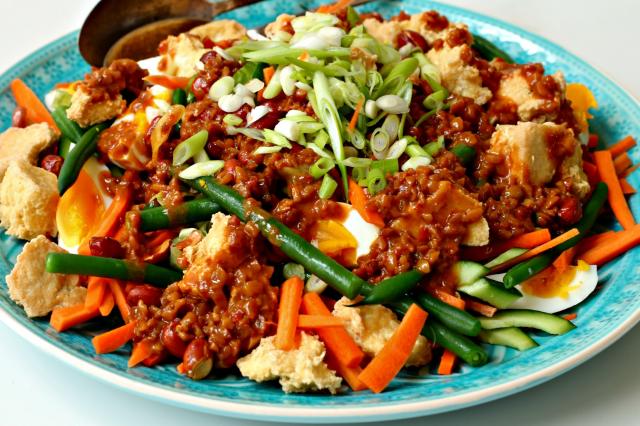 Adapted from Simon Bryant's Vegies
Serves 4
For the Salad
2 carrots, peeled and cut into matchsticks
200g green beans, steamed to tender
1 Lebanese cucumber, halved, seeds removed and thinly sliced on the diagonal
Two large handfuls of shredded iceberg lettuce
4 spring onions, thinly sliced on the diagonal
4 hard-boiled free-range eggs, quartered
Juice of a lemon
1 cup canola oil (for frying the tofu)
300g firm tofu, broken into bite-size pieces
½ cup raw peanuts
Sea salt flakes
For the Chilli Peanut Sauce
1 clove garlic, crushed
1 tablespoon gradeseed oil
2 tablespoons Sambal Olek
½ cup crushed roasted peanuts
1 tablespoon light soy sauce
1 tablespoon kecap manis
1 teaspoon rapadura sugar (or dark brown sugar)
250ml coconut cream
Make the Chilli Peanut Sauce
Heat the oil in a medium saucepan over medium heat. Add the garlic and Sambal Olek. Fry for about 30 seconds. Add all the other ingredients and let it simmer for 10-15 minutes, until the sauce has thickened. Set aside.
Make the Salad:
Heat the oil in a small saucepan until shimmering (about 180 degrees C). Add about 4 or 5 pieces of tofu and fry for 5 – 6 minutes or until golden. Remove with a slotted spoon and drain on kitchen paper. Continue frying the tofu in batches. Lastly, add the peanuts to the oil and fry for 1 – 2 minutes and remove and drain on kitchen paper. Lightly season with salt and pepper.
Gently warm the Chilli Peanut Sauce.
On a large serving platter, make a bed with the lettuce. Add the cucumber, carrot and beans. Top with the eggs and tofu.
Pour the warm sauce over the vegies and sprinkle with spring onions and fried peanuts. Squeeze lemon juice over the top and serve.