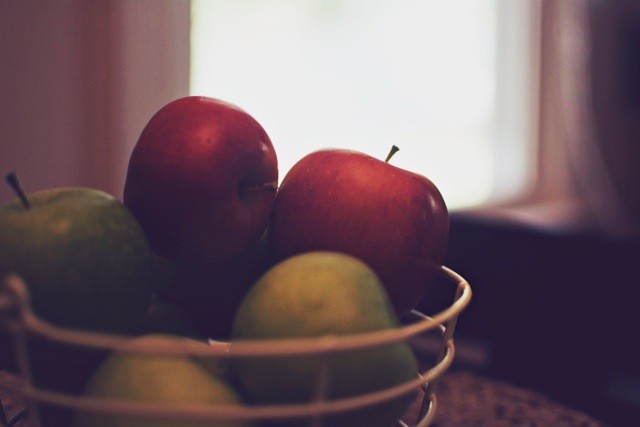 Growing up, I didn't really care for apples. Like bananas, they were the fruit, that were always available year round and thus – boring. Only in recent years I've come to love the sweet and slightly sour vitamin bombs. I'm not eating one everyday, but I'm keeping the doctor away anyway. In my opinion, apples are the perfect snack to take to university because you have zero preparation time and actually full after eating one. We have a lot of really old varieties over here in Germany, so you can really taste a difference between an apple that's ripe in August to one that's ripe in October. Gladly, I like them all.
Apples are not only filling snacks, they are also good for you in multiple ways (otherwise it wouldn't be a super/food, right?).
First of all, apples are one of the fruits with the highest pectin concentration. Pectin is important to lower your cholesterol level and it helps your bowel to work properly (you should always drink enough while eating apples though, since pectin absorbs quite a lot of fluids).
Another important aspect (especially at the beginning of the flu season) is that apples really help your body's defences as well, since they are full of vitamin C (two large apples a day can cover your daily needs). Vitamin C stimulates your bodies defences, so you should try to eat at least one a day in the colder season. Vitamin C can also be called a 'radical quencher', so it will also quench environmental toxins, nicotin, too much sunlight and other waste products of our metabolism.
Vitamin C isn't the reason why apples are so extremely healthy though, it's the high amounts of quercetin apples contain. It kills all kinds of viruses and also lowers the risk of colon cancer. Combined with vitamin C it's works it's wonders even better.
One last tip: It's best to buy organic apples (or even better – have a tree in your garden) because the healthiest parts are in the peel. If you have to peel it, most of it will get lost.
If you like apples as well, but want something warm to cozy up with in this cold season, I recommend my grandmother's (the best) apple puree. Here's the recipe:
Ingredients (for three mason jars): 1 kg apples, one table spoon brown sugar, 250 ml water, one teaspoon cinnamon, dash of chili, dash of salt.
First, peel the apples and slice into small cubes. Put all ingredients into a big pot and bring to a boil. Let it simmer for twenty minutes. Take it off the heat and puree with a immersion blenders. Tastes best when it's still warm, with a good book and a cup of tea. Enjoy!
PS: All pictures are by Danielle Marshall, taken for Super/Food.
MerkenMerken