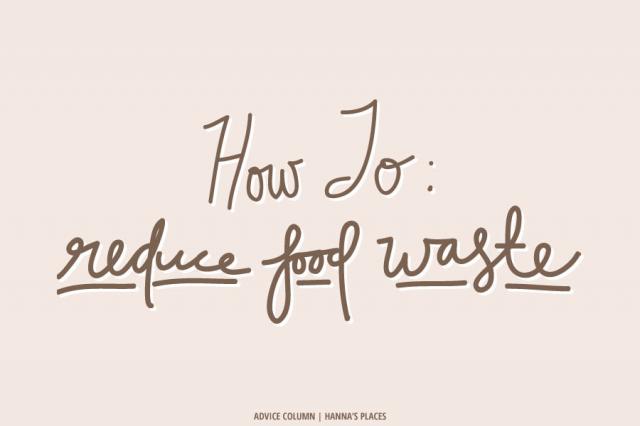 Hi, all! I'm so happy to bring you the first issue of a new column I've been working on for a while. I've been thinking about incorporating more advice on green living on this blog for a while now and I thought – what better time to start an advice column than at the beginning of a new year? If you want to change things – big and small – in 2014, living a more sustainable lifestyle should definitely be a part of that change.
For the first installment, I decided to talk about a topic very dear to my heart: Food Waste. Growing up, my mother always told us never to throw away food mindlessly (only if it has gone bad) and that has stuck with me until today. It's crazy – more than one billion people in the world don't have enough food to survive and yet we waste so much of it. In Europe alone over 90 million tons (!) of food are thrown away every year. We need to change that. Here are some simple tips, if you want to reduce food waste in your household:
***
1 | Write a shopping list before heading to the grocery store. This way you won't buy anything you already have in your fridge and end up with three loafs of bread and no butter (for example).
2 | Only buy as much as you need. Sounds obvious? What I mean is – don't buy that XXL-package just because you believe it is cheaper. Take a second to think about how much you're actually going to use/eat and then buy the smallest package possible. Just think of it this way: If you don't buy the monster package of cereal, you get to try a different flavour so much sooner!
3 | This is also practically a no-brainer, but properly storing your food is essential. This way it doesn't go bad so fast and you don't have to head to the grocery store every other day. This is a great resource on how to properly store fresh fruit and over here are tons of tips as well.
4 | And if you have some food left you don't know how to use? Some old and dry bread for example? Instead of throwing it away, just head for the internet. There's a recipe for almost anything (Old bread tastes great if you roast it with some olive oil, garlic and salt). This is also a great way to try some new recipes you would have never thought of before.
I'm curious, what are your best tips to prevent throwing away food?
***
A special thank you to Danielle from Lucky Number Seven for creating the lovely graphic for this column!
MerkenMerken