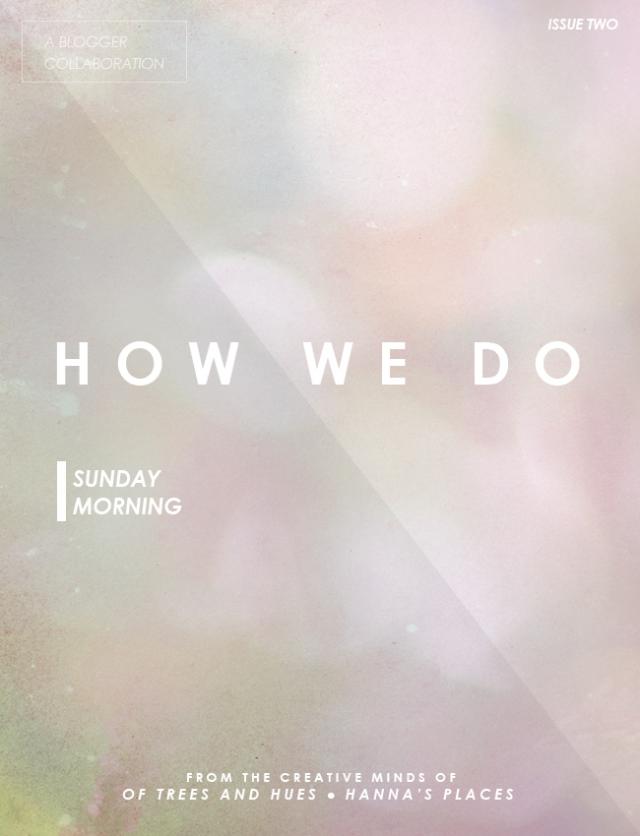 Last month, Trina and I started a new and exciting column, one we've been dreaming about for ages – How We Do. We talked about how we like to spend our favourite December day and wanted to hear about the way you like to spend it as well! I am so happy and excited that so many of you joined in. It's been so much fun reading them.
Today it is finally time for Issue 2 of How We Do: A Slow Sunday Morning. You know, those mornings when you don't have anything special to do or anywhere to be…
***
Hanna writes: I'm a big fan of slow mornings. Up until recently, I had to get up and out of the house early every morning, so starting the day without any commitments is definitely a luxury I try to relish as much as possible.
On the perfect Sunday morning, I would wake up really early, but not because my alarm clock goes off, but on my own. Instead of getting up immediately, I would lie around in bed a little bit more, dreaming and reading a new (favourite) book. Since I'm a big breakfast person, sooner or later I will get hungry and prepare a big luxurious breakfast – with eggs and tomatoes, fresh fruit and of course – coffee. Next up is a hot and long bath with everything important: face mask and peeling, moisturizer, music playing in the background…you name it. After I'm all relaxed and warm it's time to head outside and go for a walk, maybe discover a new part of town. Since I have pledged to take more photos in the New Year, my camera will definitely come with me as well. I guess by now morning is long gone, but every thought of work as well. It's still time to meet a few people and socialize. My church introduced services in the afternoon a few weeks ago, so it's now the perfect time to head over there, maybe a little early and catch up with friends and just fully enjoy the time at church.
I truly can't wait for the next Sunday to come.
***
Trina writes: Having Sunday mornings off is a rarity for me, however, when I do get one off, I like to make the most of it. In my home, it's dubbed "Trina time."
Just like any day off, I sleep in, or at least until the sun refuses to leave my tired eyes alone. One of my favorite ways to start a Sunday morning is snuggling in bed while watching an old cartoon on Netflix. Sometimes it's just refreshing & comforting to feel like a child, and an episode of The Magic School Bus or Garfield definitely does the trick. What can I say — I'm definitely a child at heart.
When my body is ready to wake, I make my way into the kitchen to put on some tea. I love breakfast, so Sunday mornings usually consist of oatmeal & fruit parfait. Most of my meals are eaten in the living area, however, on Sunday mornings I make it a purpose to sit at the dining table, which is set perfectly in front of the windows to enjoy the morning sun. While I eat, I catch up on my latest Kinfolk magazine.
Head on over to Of Trees and Hues to read the rest of Trina's story.

What about you? I'm already looking forward to reading your posts on your perfect slow Sunday morning – be sure to post the link so we can read it!
PS: And if you would like to be a regular part of How We Do and want to plan your post a little bit – in February we'll be talking about Spring Cleaning!
***
A huge thanks and shout out to the lovely folks who have already joined in:
Asia | Emma | Miranti
MerkenMerken