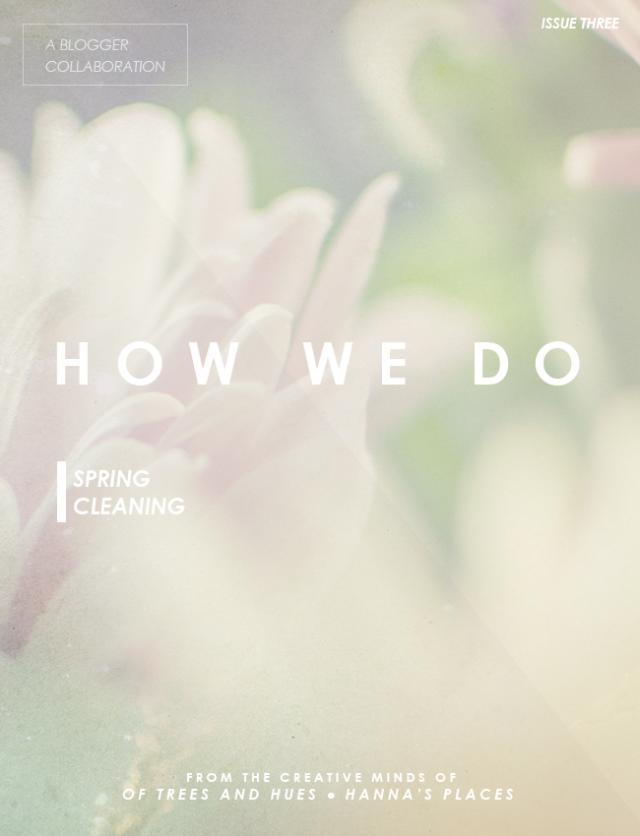 Good morning, everybody! Today it's time for the third installment of How We Do (already!). Trina and I love writing this column every month and we can't wait to read all of your stories as you publish them. Today let's talk about Spring Cleaning!
Click through to read our stories
***
Hanna writes: I don't know about you, but I'm so ready for Spring. For me, it's a season of new beginnings and an overall fresh feeling. Out with the Old, in with the New. One thing that definitely belongs to that feeling is having a clean and tidy home. So for me, every few months (not only in the Spring to be honest), it's time for a big Spring Clean. Hopefully on a bright and sunny day (all part of the fresh feeling thing).
I usually start by putting on some uplifting and fast music. Nothing makes cleaning more fun than some uplifting tunes, don't you think?
Going through every room and drawer, I clean out old documents I don't need anymore, magazines I won't ever read again, broken pieces I kept for no apparent reason…
Once everything has been cleared out to my satisfaction and I've finished cleaning as well, it's time to organize. Find new places for my favourite decoration, reorganize the pictures and keepsakes I did keep, fold everything that belongs in my closet neatly (and even colour-coordinated!). Seeing that everything finally fits inside my drawers is a real reward! There are actually few activities that make me feel as productive as Spring Cleaning. And going to bed in fresh sheets? Best feeling ever.
***
Trina writes: Despite the fact that I grew up as somewhat of a pack-rack, rarely ever throwing anything away, over the years I have learned that minimal is better. I absolutely love a clean home and seem to be more creative & energized when a space is organized. Unlike some, I "spring clean" multiple times a year. My husband isn't a fan but I absolutely love it. There's just something so freeing to get rid of things you don't need any more.
To continue reading go here.
***

Now it's time for you to join in! We truly can't wait to hear your story and how you are doing Spring Cleaning at your house in your part of the world. And taking part even got a little bit better this month – You can now easily link in with us via the following steps:
1. Create your blog post and feel free to use the header image which you can download here.
2. Copy your blog post's url.
3. Notice where it says Click here to enter — click that and follow the easy instructions. Be sure to only link up with one of our blogs, not both. No worries — since mine and Trina's blogs are interlinked, your blog post will show up on both!
***
So tell us: How do you do Spring Cleaning?
MerkenMerken