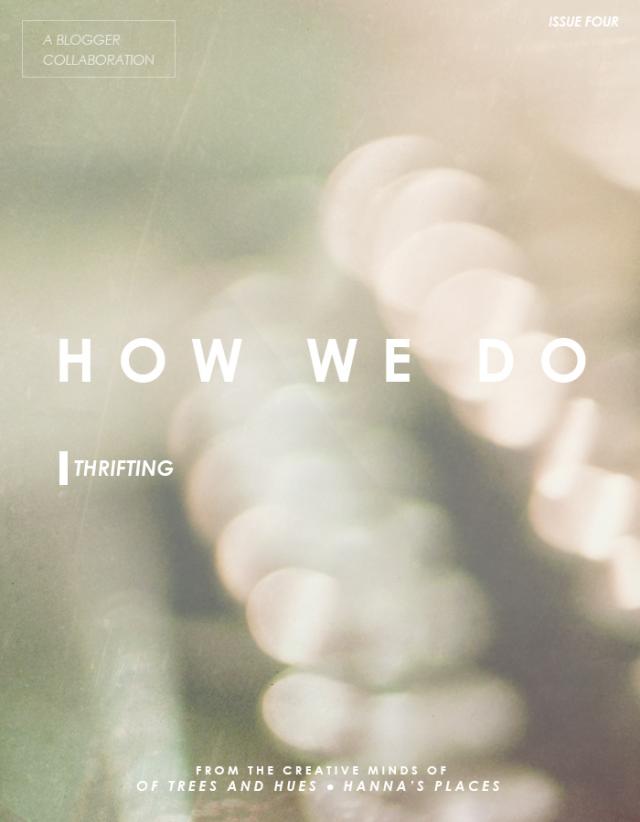 It's time for a new How We Do Issue guys. Already the fourth one (wow!). This time Trina and I talk about thrifting and we both have some really different stories to tell. Here we go…
***
Hanna writes: Thrifting is one of the things I first heard of from reading blogs. It sounded like the coolest thing ever (I love vintage clothing and decorations), but I've never heard of anything similar in Germany. Of course, we have the occasional flea market, but it's mostly full of old children's toys and strange video games.
Gladly, it seems I wasn't the only one who was reading blogs and thought something was missing over here, so in the last few years some really cool new flea markets have established in the area here. My favourite is the 'Girls Flea', which takes place once every month in an old abandoned train station. You can get fresh waffles or fries there, music is playing in the background and just people watching would be an interesting pastime because there are so many different people there.
I love to go there with a few of my friends and start searching for hidden gems, pieces with a history such just wants to be discovered. Old books, with an inscription from 1960. A handmade sweater. Mostly, I don't even buy anything for me, just browsing the aisles is enough for an afternoon well spend.
So, even thought there's still no great thrift stores over here, I'm so happy I can finally try and go thrifting over here. And if I ever visit the US on holiday, I'll be sure to check out every store on my way!
***
Trina writes: I am fortunate enough to live in a city where thrift stores are in walking distance of my home — and I mean, dozens of them! My favorite type of day to go thrifting is on warm, sunny days when I don't really have anything particular in mind of purchasing — I just want to browse, and if something catches my eye or tugs at my heart strings — then so be it! Let it be mine.
Continue reading Trina's story over
here
.
***

Now it's time for you to tell your story! How is thrifting done in your part of the world? Is it a thing where you live (like in Trina's story) or something special and not so common? I can't wait to read it, that's for sure. If you want to take part, just grab the picture over here and link up below. Easy!