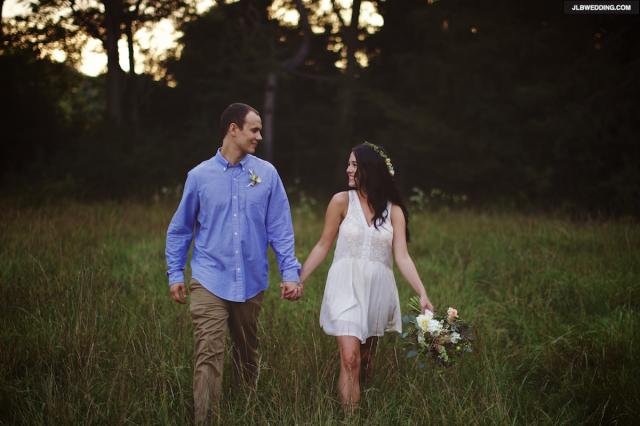 Happy Valentine's Day everybody! Are you having a day filled with love and joy? In a relationship or not, I hope you are spending it with your favourite people and showing them all your affection.
Here on the blog, it's time for some romantic stories as well: Today Courtney is sharing the (absolutely adorable) story of how she and her husband met and what their perfect date would look like. I don't want to tell you too much, but I can say one thing: It will definitely bring a smile to your face.
How did you meet and fall in love?
This is one of those "mom's always know best" stories because my mom actually introduced us! The day Zack and I were supposed to hang out for the first time, there was a tornado. I remember being at work during it, hoping he wouldn't cancel our dinner date due to weather. Good news is, he didn't cancel and it was one of favorite meals I had ever had due to my company. We fell in love over the course of that summer. Mexican dinners outside, trips to the lake, and lots of long talks on hikes. I remember thinking I could listen to Zack talk for the rest of my life. I loved how easy going he was and his outlook on life. It's pinch me stuff that we are going to be able to have a lifetime worth of conversations together.
What would your perfect date look like?
I have to say, my absolutely favorite thing to do is find different ways date my husband. Of course, we love traveling together. Exploring new places together as a couple is so much fun, but if i'm being honest, we have just as much fun laying in bed, eating popcorn and drinking mexican cokes, marathoning our favorite shows. Right now our go-to show to watch is The Big Bang Theory, but we also love How I Met Your Mother, Parenthood, Community, True Detective and Parks & Recreation.
We also have been enjoying picking out a new recipe and making it together, going on long walks, and discovering/trying new coffees. I think my perfect date would expand over a whole day. We would start with cuddling in bed and then do all of the things I just listed. Yeah, that would be perfect in my eyes.
Thanks so much Court for sharing your story with us. It's beautiful, don't you think?