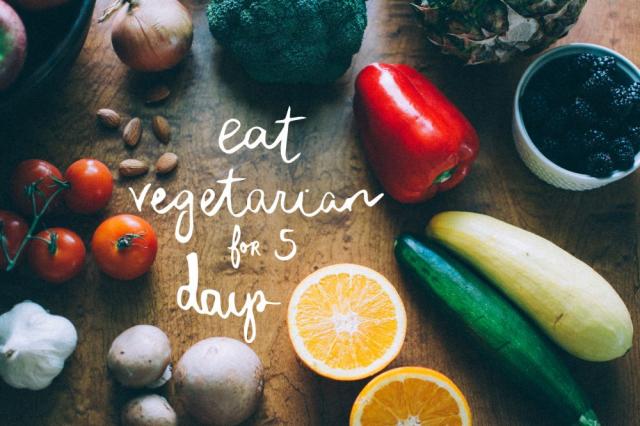 Happy Monday everybody! Are you ready for the new week ahead and up for a little challenge?  As summer rolls around we are all trying to change up our eating habits a little bit – more fruit and vegetables, less fast and processed food. In addition to that, why don't we try eating less meat this week? Here are some basic facts:
1 | First of all, let me clear up one thing: Eating meat isn't unhealthy (in general). The only thing unwholesome about the way we consume meat are the amounts we eat on a regular basis (the common American eats about 120 kg per person per year, Europeans about 80 kg). Just remember that a few decades ago, people used to have a special roast on Sundays and that was it for the week.
2 | Did you know that the meat industry also plays a large part in all those global warming issues? According to Greenpeace, one kilo of beef produces roughly the same amount of greenhouse emissions as an average car on a stretch of 250 km. You could take a small trip and still produce less emissions than a steak. Also, lifestock needs tremendous amounts of water that could be saved as well (around 6000 to 10000 litres of water go into one steak!).
3 | I don't really need to tell you about the cruel conditions on common animal farms on here and I guess we all have a basic idea about it. I would really recommend reading Eating Animals by Jonathan Safran Foer or watching Food, Inc, they both give a real good overview of the industry at the moment. The PETA website is a really good resource as well.
Why don't we all try to consume meat a little bit more consciously this week? Living meatless for five days in a row shouldn't be hard, right? I can't wait to try some new recipes! Whether you decide to go completely vegetarian after that or reduce your 'meat meals' to one or two per week, you will definitely make a healthy change for yourself and the environment. And if you have the occasional burger or steak, I would advice you to get the freshest meat possible at your local butcher and not something cheap from the supermarket.
If you decide to play along, here are some great vegetarian recipes:
+ Coconut Curry with Broccoli and Chickpeas
+ Farmer's Market Flatbread Pizza
And if you're after something sweet:
***
Now I'm interested: Are you going to play along? Have you been a vegetarian for ages? Or could you never live a day without meat?
***
Picture by Danielle Marshall | Lucky Number Seven Studio for Hanna's Places.