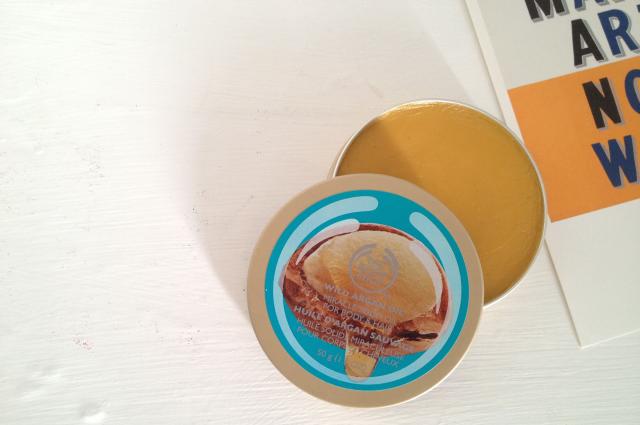 With December rolling around comes not only holiday cheer (and countless amounts of cookies, mulled wine and chocolate), but also the cold and – inevitably – dry winter skin and hair. This year I finally found the ultimate cure to all my problems (drumroll, please): The Body Shop Wild Argan Oil Miracle Solid Oil.
+ It contains (duh) both coconut and wild argan oil, which are both highly beneficial for you (you probably know that if you are the tiniest bit interested in beauty issues).
+ It is an allround wonder product (not even exaggerating here): I put in in my hair before going to sleep for an overnight hair treatment. You can put it on your hands and cuticles for smooth skin. Also, your feet (no more cracked heels for me!). I put it on my hair-ends after washing them as a leave-in conditioner. You can say good-by to dry knees and elbows.
+ It smells absolutely heavenly. Believe me.
+ It's dead-easy to apply since it's solid oil and you get exactly the amount of oil you want to use. I really hate having to wait for beauty products to dry or getting to much of it on my hands, so this is ideal.
+ It's all natural ingredients, made without animal testing and using Community Fair Trade Argan Oil. Triple win! Also, according to the Body Shop website, it enables women in Marocco to raise their living standards and live more independently.
+ It's not even expensive (and will last quite a while since it's solid – or maybe not, considering how much I use it).
I'm now definitely thinking about getting some of the other products from the range as well, the lip balm might be next on my list.
Have you ever tried Solid Argan Oil before? And what are your favourite products to fight winter skin?
MerkenMerken