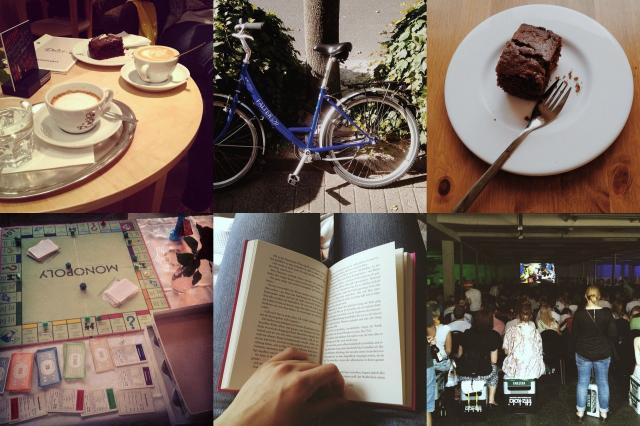 Phew, I can't believe another week has come and gone! I feel like time is running more than ever at the moment (my birthday is in only 4 days!) and I'm trying to seize every minute of it.
On the weekend, I travelled home for my grandmother's birthday. We had some delicious food, played monopoly, talked, my little brother played the piano…a typical birthday in my family. It was cozy and fun and I loved it.
Also at home, I finally started watching Downton Abbey season 4 with my mom (we always watch together so we have to wait until I come home and visit to continue). I'm still a bit sad about the ending of the third season (everybody who's watching knows what I mean), but the fourth is still really good!
On Saturday, I discovered a new café with a friend called Dulce. They serve fresh coffee, homemade cake and chocolates and everything is pink and white. A girls dream. We have already planned our second trip next week.
On Tuesday, I skyped with a good friend for over an hour. It was so lovely to talk and catch up again after not seeing each other for quite some time. It's strange, we have never used Skype before, although it's such an amazing invention, don't you think?
Other than that, my free time was mostly filled with studying for my exams. This week I decided to switch it up with watching some documentaries while eating chocolate cake. Definitely better than sitting at my desk!
I tried a lot of new recipe's this week: Siobhan's pasta and bean salad (perfect for work/uni), semolina dumpling soup (a German classic I have only ever eaten the instant version of) and a chocolate cake, that is officially the fluffiest cake I have ever eaten. I'm on a cooking/baking roll right now!
What was your week like? And what have you planned for the rest of the week? I'm going to get back to my documentaries now!
***
All pictures via my Instagram. You can go and follow me over here.