.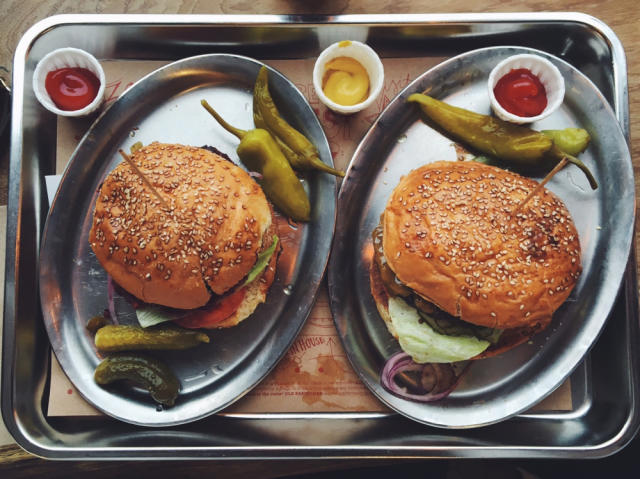 And another week is over and ran by at lightning speed. Next week I'm heading to London and can't wait to spend some time hanging around coffee shops, exploring and making exciting plans for the future! If you've got any tips for great exhibitions or new places to check out, let me know (or if you want to grab one of those coffees together!).
Links & Memories of the week
1 | On Thursday, I went out for burgers to What's Beef (there's two of them in Düsseldorf) with one of my uni friends. She had a massive cheeseburger (you get to put your own extras like ketchup or pickles on yourself) and I went for the vegetarian option, of course. It's a really nice and stylish place, the burger wasn't the best I ever had though (and slightly cold). Still, we had a great time, the atmosphere is really cool and maybe you just have to eat real fast to get the full hot burger experience ;)
2 | I also moved this week! I am now officially a resident of Bonn, Germany and I'm really happy about that. I still need a thousand and one little bits and pieces and decorate of course, but at least 90% of my furniture is in place and I can start making everything feel like home. Yay, yay!
3 | On Friday, I started watching the tv show Brooklyn 99. It's not very intellectual, but it is super-funny. Highly recommended if you just want to switch of your brain and have a good laugh!
4 | In TV related news, did you know that Sookie is coming back to Gilmore Girls as well? Melissa McCarthy announced it on Ellen deGeneres show last week and my little Gilmore fangirl heart couldn't be happier!
Cleaning, cleaning, cleaning
5 | I am really motivated about housekeeping at the moment because of my flat. Lately, I spend a few hours (ahem – yes, I'm a nerd) browsing cleaning tips online. Apartment Therapy has a lot of great tips.
6 | In the spirit of cleaning: Getting rid of unnecessary stuff is always better than just getting organized. Here are 10 Things you could get rid of today that you won't miss.
7 | And another super interesting article I read this week: 11 questions for your Ob-Gyn on A Cup of Jo.
8 | Last but not least: What to do when you're overwhelmed and spreading yourself too thin. Really relevant to me at the moment (and probably everyone else as well).
And that's it for this week! I'm really enjoying writing these weekly round-ups and the mix of diary bits and favourite links. It also makes me more mindful on how I spend my time. I want to remember to take pictures of everyday life. This week the only photo I took was of the burgers, but still. Thumbs up!