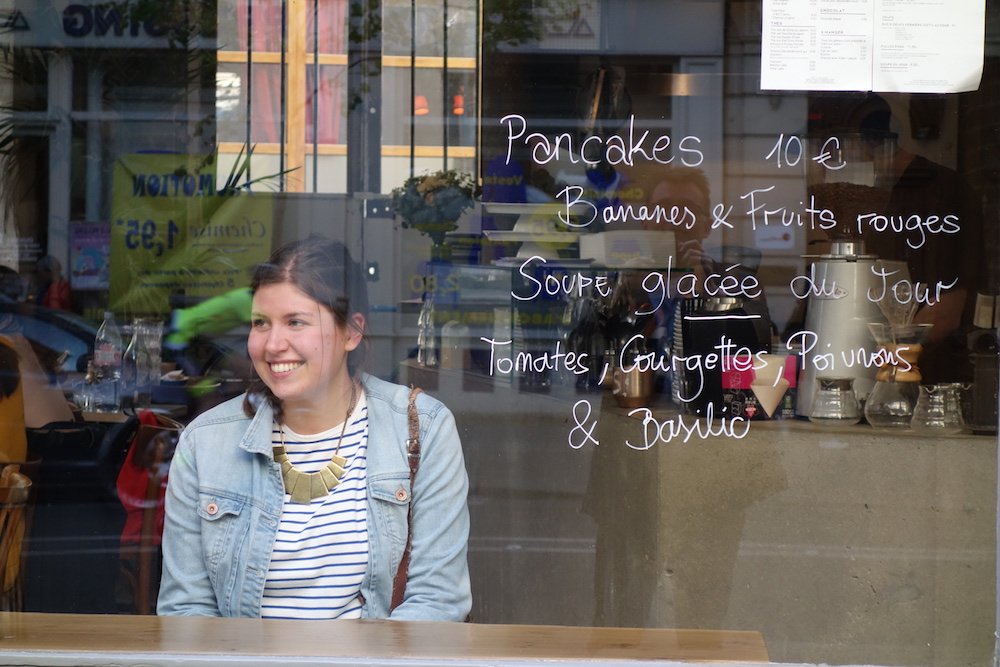 We're back from Paris! It's truly one of the prettiest European cities in my opinion. We walked around, we ate Falafel, we took pictures and of course: We tried as many coffee shops in Paris as possible. As in every big city, there are cute little cafés and coffee shops all over Paris. We visited the five below, but I still have a list of pretty places we didn't get to check out (they are in the map below though). As everything, going to coffee shops in Paris is quite expensive (4 to 5 Euro for a cappuccino), but these are great spots if you've been sightseeing all day and need a little break. I've also included the sights we saw when we visited the shops, so you don't have to go there just for the coffee ;)
Passager Café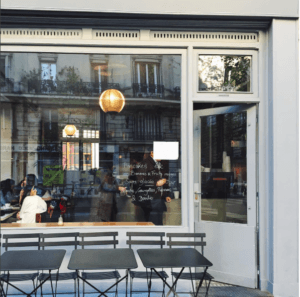 This was definitely one of my favourite coffee shops in Paris. The coffee (and the cake!) was great, the staff really friendly and the atmosphere chill and relaxed. I could easily imagine spending the afternoon here and work while eating cake. Lots of people did that actually! It isn't close to any 'tourist spots' but you should still walk by here and rest your feed in this pretty place.
What else to do around here
Passager Café is about 15 min from the Bastille. From here, you can walk over to the Marais and visit the Place des Vosges or eat some Falafel, or head down to the Seine for an afternoon stroll. As I said, Passager isn't actually close to anything that you typically visit as a tourist, but there's some nice places only a walk away.
Address + opening times
107 avenue Ledru Rollin, 75011 Paris
Tuesday-Saturday: 08:30 – 18:30
Cuillier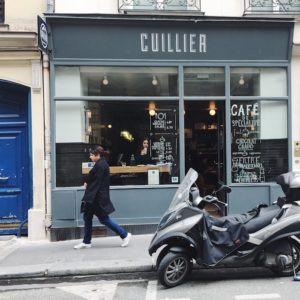 We went for lunch to Cuillier and really enjoyed our time here as well. The coffee was great and the quiche one of the best I ever had (maybe because I never ate quiche in France before? Anyway). It's in a quiet street off Boulevard St. Germain, so the chance to get a table if you walk in is quite high. Highly recommended as a lunch spot.
What else to do around here
Cuillier is situated in the 7th arrondissement. We went to the Musée d'Orsay afterwards and spend a few hours there (highly recommended – it's huge and possibly not as crowded as the Louvre). The Musée Rodin is quite close as well or you could just wander the streets around here.
Address + opening times
68 Rue de Grenelle, 75007 Paris
Tuesday-Friday: 8:00 – 18:00
Saturday/Sunday: 9:00 – 18:00
Strada Coffee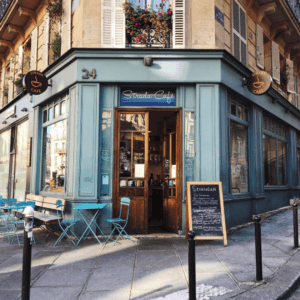 Strada Coffee is situated in the Quartier Latin, quite close to the university, so there were a lot of students around when we visited. We went after a long day of walking and the atmosphere was exactly right to sit around and relax – good music, nice staff and huge cups of coffee. The coffee was good and the cakes looked nice as well. One of the more relaxed coffee shops we went to!
What else to do around here
As I said, Strada is situated in the Quartier Latin. You could pay a visit to Sorbonne or the Pantheon, a mausoleum for distinguished people like Voltaire or Marie Curie. The Institut du Monde Arabe is also really close where you can enjoy the view over Paris for free (and without any lines as well!).
Address + opening times
24 Rue Monge, 75005 Paris
Monday-Friday:   08:00-18:30
Saturday/Sunday: 10:00 – 18:30
Télescope Café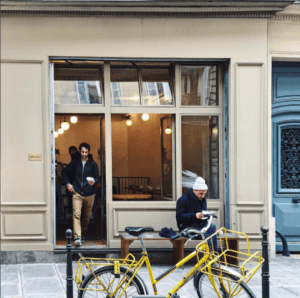 This place was cool. The people there looked like they were straight out of a fashion blog or like we were in London's East End. We felt a tiny bit out of place. But: The hot chocolate was heavenly and the coffee was really good too. So it's definitely worth a visit.
What to do around here
Télescope is just a little walk away from the Louvre and the Jardin des Tuileries – probably a must if you're in Paris for the first time. The Palais Royal is really close too as well as Place Vendôme and the Champs Elysée.
Address + opening times
5 Rue Villedo, 75001 Paris
Monday-Friday: 8:30 – 17:00
Saturday: 9:30 – 18:30
Café Kitsune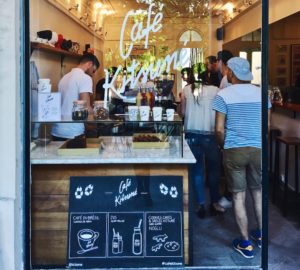 I must admit – I only put this place on my list because I looked up coffee shops in Paris on Instagram before our trip and saw SO many pictures of this place. We visited on the first warm day of the year, so I opted for the iced coffee. The place is tiny, but you can sit in the park of the Palais Royal if the weather is nice.
What to do around here
Café Kitsune is just around the corner from Télescope Café, so you can visit the same places quite easily: The Palais Royal, the Louvre and other places around the Seine.
Address + opening times
51 Galerie de Montpensier, 75001 Paris
Monday-Friday: 9:30-18:00
Saturday/Sunday: 10:00-18:00
Other coffee shops in Paris + map
As mentioned above, these are just a few of the places I wanted to visit. So if you're planning a trip to Paris, or you're Parisian and looking for a new place to visit, you can consult the map below. I included the coffee shops mentioned above and also some of the ones I didn't get to visit. Do you know of another great coffee shop in Paris? Tell me and I'll include it in the list!