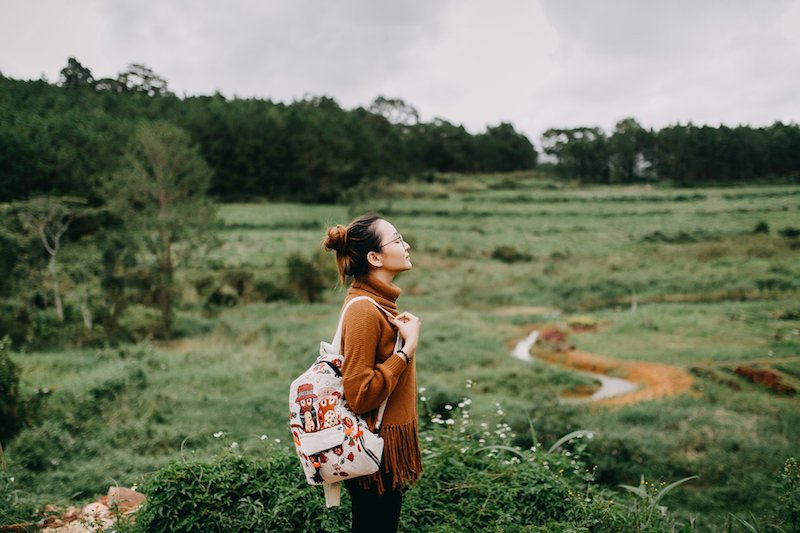 November is here, the year is almost over. For me, November has always been kind of a 'in-between' month. It's too early to get in the Christmas spirit, but the beautiful parts of autumn are over, too. The weather is mostly grey and dark, with no snow in sight yet. Don't get me wrong, there's some elements about November I appreciate! It's very cosy to be inside and at least – Christmas is almost there.
This year, I want to make a conscious effort to enjoy November as well. I don't want to get down because of the grey and cold weather. For me, this also means saying no to spending all my time on Netflix and yes to new activities and other people. I tried to reflect this with a couple of fun goals.
Start weaving
I've enjoyed looking at the beautiful weavings all over Instagram and Pinterest for a while now. Since it sounds like a fun and easy hobby, I've decided to make it my new winter hobby to try. Last year it was calligraphy, two years ago candle-making, now I'll try weaving. If any of you have any great tips about material, tutorials etc., please let me know!
Get a headstart on my Christmas presents
This year, I don't want to buy my Christmas presents at the very last minute. Instead, I want to try and make more presents myself again (I already got an idea or two) and put a lot of thought into each of it. That's why I want to start now, before December comes around (which I want to spend mainly baking cookies and drinkig spiked cider). I'd love to get together with my friends for a few crafting sessions, but we'll see if that works out!
Make sauerkraut
In Germany, sauerkraut is a real simple meal most people eat at their grandma's. In the past few month though, I've seen it pop up all over my social media feeds as a new and healthy 'superfood'. I've also seen a couple of different recipes to make it yourself. Since I've never fermented food before and it sounds both interesting and a little scary, I was intrigued. I've settled on one recipe I am going to try and really hope it works out. Wish me luck!
Thankful November
Apart from all the crazy/sad things happening in the world lately, 2017 has been a really great year for me personally. I went on a few different and really nice trips, found a new church and a new home in Bonn. I had some fun little opportunities because of this blog, met new friends and my relationships got better as well. Normally, I do this kind of reflecting at the end of the year. I just thought it would be nice to express some extra thankfulness during a month when it's not that easy to be thankful every day.
Take care of my body
I don't mean this in a diet kind of way, but in a 'try to feel healthy and good' kind of way. This time of year, it gets a little bit harder to get out of bed in the morning, it's harder to eat healthy or go outside and move around. I want to give my best to still act in a healthy way, so even if the weather and the light conditions aren't ideal, I will feel awake and good, not sluggish.
There you have it, my November goals! I am actually quite looking forward to this month, and if I manage to act on all these ideas, it should definitely be a fun one. Did you set any goals for the next four weeks?