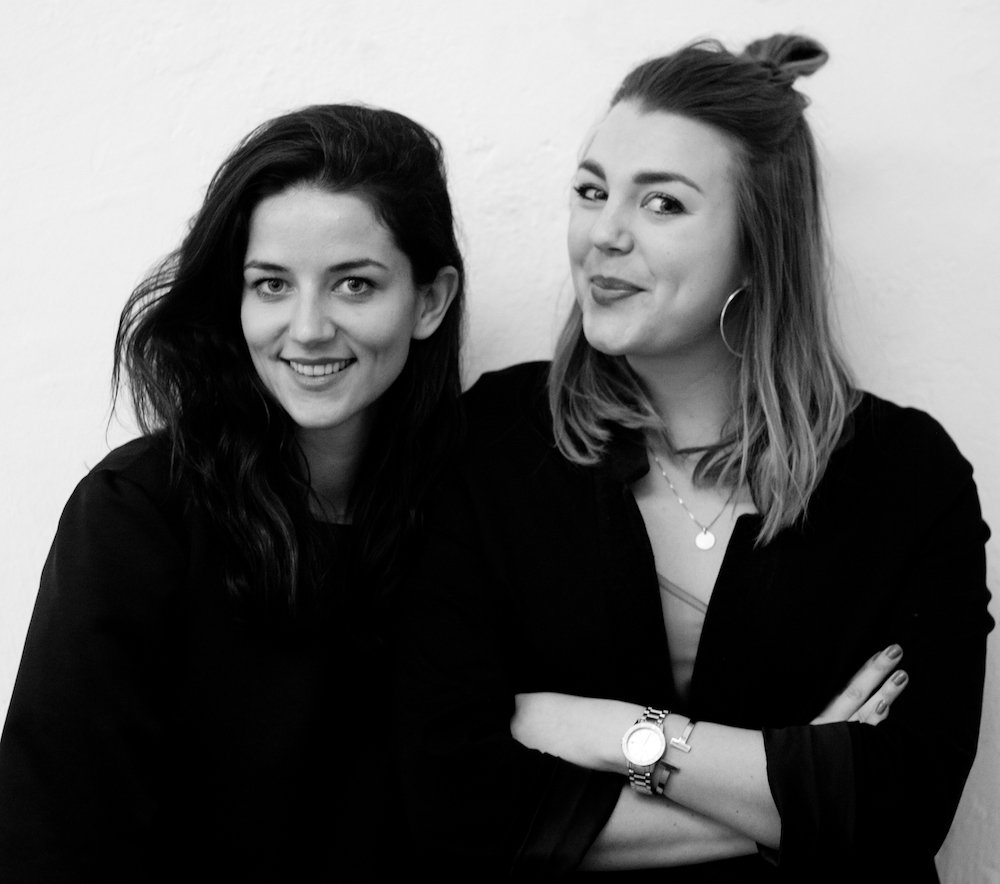 (scroll down for German version)
#byebyefastfashion – that's the motto of fair fashion label JAN 'N JUNE. Since 2014 Anna and Jula, the founders of JAN 'N JUNE, have been selling sustainable fashion that's fun to wear, great in price and very stylish. And they show: Sustainability doesn't actually have to be difficult.
Where do you put the line between slow and fast fashion?
Anna: For us, slow fashion is a big part of sustainable fashion. If you want to separate fast from slow fashion, you need to look at the way you're consuming. Fast fashion means binge shopping. It's cheap, so you buy more clothes than you could ever wear. Items you don't even like. You think: "Oh, it's just two bucks, let's just get this one as well". Slow fashion means the opposite. It means: Buy items that have the potential to become favourites, that go with everything, that you really really love. Shop more consciously!
Jula: Consider: Does this item mean something to me, am I actually going to wear it? There's a huge gap between thinking a piece of clothing is cool and finding something that actually suits you and fits your style. And of course sustainability plays a big role: How long is this new item going to last? How friendly is the manufacturing process — to the earth, nature and the people?
When did you start thinking about the way you buy your clothes?
Anna: Our awareness for sustainable fashion started growing while we were studying. We both studied fashion. That means that we got confronted with how dirty the industry actually is again and again.
Jula: I'll never forget one of my internships — I went to a production agency in Indonesia. My time there showed me, that clothes aren't worth anything in conventional fashion. As soon as one item is finished, it gets thrown on the floor. It might be sold for 30 or 300 Euros, at the factory there's no difference. You shouldn't cherish the illusion that clothes that are more expensive are actually better. You're just paying for the label.
How do you feel, when you see people packed with shopping bags from Primark or other high fashion labels?
Anna: Sometimes I think: "Oh man". But I don't feel that girls shopping at Primark are a personal affront to me. The problem is that you can't really buy fair fashion labels in high street shops. We're a tiny niche. The consumer has to put a lot of time and energy into finding sustainable labels — an effort not many people are willing to make.
What's your strategy to reach new customers?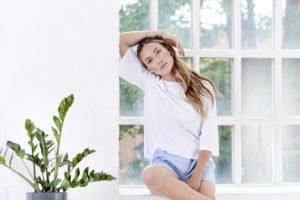 Jula: We want to provide options to people. Switching from fast to fair fashion has to be as easy as possible. It doesn't work using horrible pictures or accusations — everybody knows that a lot of things go wrong in the fashion industry. That's why we want to make fair fashion accessible to everyone.
We want people to buy our products because they really like them. Not solely because they've been produced sustainably. Our clothes are supposed to be favourites that you can wear year after year. That's why it's one of our main goals to be sold in conventional stores and boutiques as well.
Anna: We are reaching them with great design and quality as well. We just want to build a great brand image. It should be fun to visit our online store, see what's new. You're supposed to notice that it's all about fashion. Nobody has to make a complete U-turn. It's unrealistic to demand all or nothing in terms of buying sustainably. Every item you buy that has been produced in an ethical way makes a difference.
Is there a label that makes you think: They are doing it exactly right?
Jula (laughing): Yes, The Reformation. They talk about sustainability in a really hip and relevant way. The style of their clothes is completely different to ours, but their message is really cool.
If you could talk to the CEO of H&M or Inditex (e.g. Zara) tomorrow, what would you talk about?
Jula: I think that would be different for H&M and Inditex. I would almost lecture Inditex because they are basically ignoring sustainabilty. Whatever they are doing in that area — they could easily stop because it's so irrelevant. How is it possible to keep sustainability so completely out of your business strategy? With H&M, I would ask how serious they actually take sustainability. The other day, I was looking at a piece from their Conscious Collection, a chiffon top. Well, 30 percent of that top had been made from recycled polyester. If you're not familiar with the topic, you might think: "30 percent, that's great!" It's actually incredibly easy to recycle polyester though, so why isn't the whole piece made from recycled material? Especially a big company like H&M that shouldn't be a problem.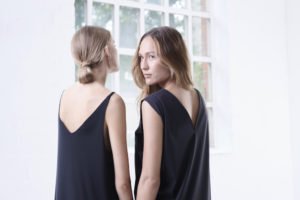 Anna: Or if you have a piece that says: "Made from organic cotton." Oftentimes, only half of these pieces are actually made of cotton – maybe 25 percent of them are organic. And that's only the material, it might still be manufactured under horrific working conditions.
Jula: Still, it's really interesting to look at what H&M is doing. For instance, the way they advertise their green collections is really good. That's why a lot of people claim their campaigns are greenwashing by the way. I think it's great that they are making the topic relevant to people. H&M gives people the push to start thinking about the way they consume. That's better than Inditex — a company that doesn't even talk about sustainability.
What's next for JAN 'N JUNE?
Anna: There are a lot of new projects we are thinking about. We would love to have our own Men's Collection. And maybe home wear, sports wear, even some brick and mortar shops! We're really excited to see how society will change in the next few years. How many clothes will we have? People today move all the time, they don't even want to own a lot of things. Lots of things are going to change I'm sure. And I'm really excited to be a part of that change.
Thank you guys for the interview!
If you want to check out JAN 'N JUNE's current collection you can find it here.
Picture of Anna and Jula: Chérie Birkner. Pictures of the collection: Michael Rüttger.
***
Wo zieht ihr die Grenze zwischen Slow und Fast Fashion?
Anna: Slow Fashion ist für uns ein Teilaspekt von nachhaltiger Mode. Um Fast und Slow Fashion abzugrenzen, geht es um den bewussten Konsum. Für uns bedeutet Fast Fashion Bulimie-Shoppen. Der Preis ist niedrig, deswegen kaufst du Massen, die du gar nicht tragen kannst. Kleidung, die dir eigentlich nicht gefällt, bei der du aber denkst: "Für zwei Euro kann ich das doch das Teil mal mitnehmen". Dem entgegen wird Slow Fashion unterschiedlich interpretiert. Für uns heißt es: Schaff dir Lieblingsteile an, die variabel sind und die du richtig gerne trägst. Kauf bewusster ein!
Überleg dir vorher: Hat das Kleidungsstück eine Bedeutung für mich – werde ich es wirklich tragen? Es ist ein Riesenunterschied, ob ich ein Teil nur cool finde oder ob es mir wirklich steht und zu meinem Stil passt. Dann gibt es natürlich die Komponente der Nachhaltigkeit: Wie langlebig ist das neue Teil? Wie freundlich ist es im Herstellungsprozess der Umwelt, der Natur und den Menschen gegenüber?
Wann habt ihr begonnen, so gründlich über euren Konsum nachzudenken?
Anna: Das Bewusstsein für nachhaltige Mode kam bei uns verstärkt im Studium. Wir haben beide Mode studiert. Da wird man immer wieder damit konfrontiert, wie schmutzig diese Industrie eigentlich ist.
Jula: Ich werde nie eins meiner Praktika vergessen – ich war in einer Produktionsagentur in Indonesien. Die Zeit dort hat mir gezeigt, wie wertlos Kleidung in der konventionellen Mode ist. Wenn ein Teil fertig ist, wird es einfach auf den Boden geworfen. In der einen Ecke liegt eine Jacke, die im Verkauf 300 Euro kostet, in der nächsten eine, die kostet 30. Die machen keinen Unterschied. Alles wird irgendwohin gepfeffert. Du darfst nicht die Illusion haben, dass du ein besseres Produkt bekommst, nur weil du mehr bezahlt hast. Da zahlst du bloß ordentlich für die Marke drauf.
Wie fühlt ihr euch, wenn ihr durch die Innenstadt geht und überall Leute seht, die bepackt sind mit vollen Tüten – meistens von Primark und Co?
Anna: Da denke ich schon manchmal: "Au Mann". Ich fühle mich von Mädchen mit Primarktüten aber nicht persönlich angegriffen. Das Problem ist, dass es faire Labels wie uns nicht in den regulären Geschäften gibt. Wir sind eine winzig kleine Nische. Der Käufer muss wahnsinnig viel Aufwand betreiben, um nachhaltige Labels zu finden.
Wie wollt ihr es schaffen, mehr Käufer zu erreichen?
Jula: Wir wollen Alternativen schaffen. Der Wechsel von Fast zu Slow Fashion muss so leicht wie möglich sein. Das geht nicht mit erhobenem Zeigefinger, das geht nicht mit schrecklichen Bildern, das funktioniert alles nicht. Alle wissen, dass in der Modeindustrie vieles falsch läuft. Deswegen geht es für uns darum, Alternativen zugänglich zu machen. Wir möchten, dass der Kunde unsere Teile kauft, weil sie ihm wirklich gefallen. Nicht, weil sie nachhaltig produziert und deswegen "gut" sind. Unsere Teile sollen Lieblingsteile werden und nicht nur für eine Saison tragbar sein. Deswegen ist es auch immer ein Erfolg, wenn wir in Boutiquen verkauft werden, die nicht nur nachhaltige Mode führen.
Wie wollt ihr Menschen abholen, die mit Slow Fashion erstmal nicht so viel am Hut haben?
Anna: Mit gutem Design und guter Qualität. Wir wollen einfach ein gutes Markenimage aufbauen. Es soll Spaß machen auf unsere Seite zu gehen, zu gucken, was es so gibt. Man soll sehen, dass es bei uns wirklich um Mode geht. Wir finden, dass kein Mensch eine hundertprozentige Radikalwendung machen muss. Es ist auch einfach utopisch, direkt ein ganz oder gar nicht zu verlangen. Mit jedem Kleidungsstück, dass du nachhaltig einkaufst, machst du schon einen Unterschied.
Kennt ihr ein Label bei dem ihr denkt: Die machen es genau richtig?
Jula (lacht): Ja, The Reformation. Die schaffen es, das Thema Nachhaltigkeit in der Mode richtig hip und überzeugend rüberzubringen. Ihre Mode ist natürlich total anders, aber die Botschaften, die sie haben sind schon richtig cool.
Wenn ihr morgen den CEO von H&M oder Inditex (Zara etc.) treffen würdet, worüber würdet ihr sprechen?
Jula: Ich glaube, das wäre unterschiedlich bei H&M und Inditex. Inditex würde ich fast eine Standpauke halten, weil bei ihnen Nachhaltigkeit quasi ignoriert wird. Das, was sie in diesem Bereich machen, ist so irrelevant, da könnten sie es eigentlich ganz lassen. Wie kann man Nachhaltigkeit so aus seinem Unternehmenskonzept ausschließen? H&M würde ich fragen, wie ernst sie es eigentlich meinen. Letztens habe ich mir  ein Teil aus der Conscious Collection genauer angesehen, ein Chiffon-Top. Hier waren 30 Prozent des verarbeiteten Polyester recycelt. Jemand, der sich nicht auskennt, denkt:  "Cool, 30 Prozent"! Aber eigentlich ist Polyester irre leicht zu recyceln. Da frage ich mich, warum nicht das ganze Top aus recyceltem Material hergestellt ist. Gerade für jemanden wie H&M sollte das kein Problem sein.
Anna: Oder wenn auf einem Teil Biobaumwolle steht. In Wirklichkeit ist es dann nur zur Hälfte überhaupt aus Baumwolle. Und im Baumwollanteil sind dann vielleicht 25 Prozent bio, unzertifiziert wohlgemerkt.  Und genäht unter möglicherweise fragwürdigen Bedingungen.
Jula: Trotzdem ist spannend, was H&M machen. Sie vermarkten ihre grüne Kollektion zum Beispiel echt gut. Deswegen wird ihnen auch häufig zu Recht Greenwashing vorgeworfen. Ich finde aber, sie bringen zumindest das Thema in die Diskussion. Für das Umdenken beim Endkonsumenten ist das vielleicht gar nicht so verkehrt. Deswegen muss man H&M auch differenzierter sehen. Es ist gut, dass sie den Impuls geben. Den Anstoß überhaupt über den eigenen Konsum nachzudenken. Besser als Inditex zum Beispiel, die gar nicht über Nachhaltigkeit sprechen.
Was steht als nächstes für JAN 'N JUNE an?
Anna: Wir haben eine Reihe Dinge, die wir gerne umsetzen würden. Grundsätzlich würden wir gerne Männermode machen. Außerdem Homewear, Sportswear, vielleicht eigene Läden! Es gibt viele spannende Sachen, die wir gerne starten würden. Außerdem ist interessant, was sich gerade so in der Gesellschaft verändert. Wieviel werden wir in ein paar Jahren besitzen? Momentan wachsen Generationen heran, die ständig umziehen – die wollen gar nicht so viel besitzen. Da wird sich in den nächsten Jahren noch echt viel verändern und wir freuen uns mega, mit JAN 'N JUNE auch Teil dieses Umdenkens zu sein.
Vielen Dank für das Interview!
Comments