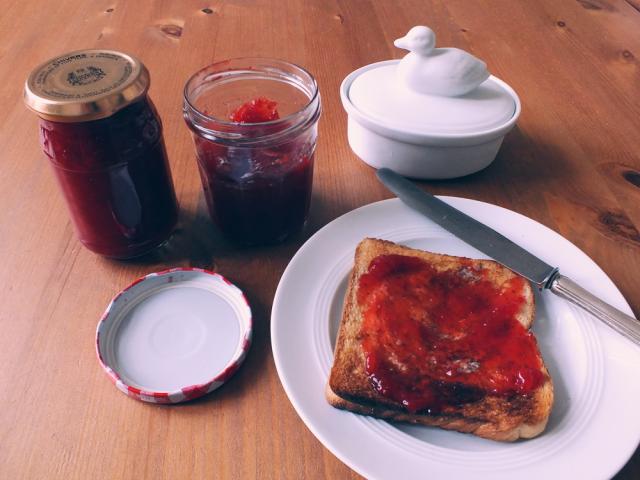 Let me tell you a secret my friends. I l-o-v-e strawberry jam. Exciting right? Honey and Nutella are all very good as well, but for the ultimate Saturday morning brunch I just need my strawberry jam. You can imagine how happy I was that you could make your own super-easily, which both tastes better AND is cheaper. This one is a little variation on the classic Strawberry Jam since we didn't have enough strawberries anymore. So we added a little freshly squeezed orange juice and it tasted surprisingly good! Strawberry Orange Jam was born.
Another upside of making your own jam? It's not filled with preservatives and other unnecessary additions. You can put in more fruit and as little sugar as you like. You could even leave out the sugar and use maple syrup or honey instead. Have you tried natural ways to make jam? I would love to read your tips in the comments!
Oh and by the way, they are perfect with last week's fresh buns! Here's the recipe!
The Recipe
500 g canning sugar (I prefer the 3 parts fruit, one part sugar kind)
700 g strawberries (we mostly use frozen ones because they are a little cheaper and you won't taste a difference, just make sure they aren't sweetened already)
300 g fresh orange juice
Let the fruit defrost a little bit. Bring the fruit, the sugar and the orange juice to a simmer on the stove. Mash the strawberries to your liking. Let it cook for a few minutes. Immediately fill the jam into jars, close them tightly and put them botton up for five minutes. After that you can turn them over again and enjoy your fresh jam! I love putting it on freshly baked bread – the perfect Saturday tradition.
Are you looking for more great breakfast recipes? I've saved tons on Pinterest, come on over!