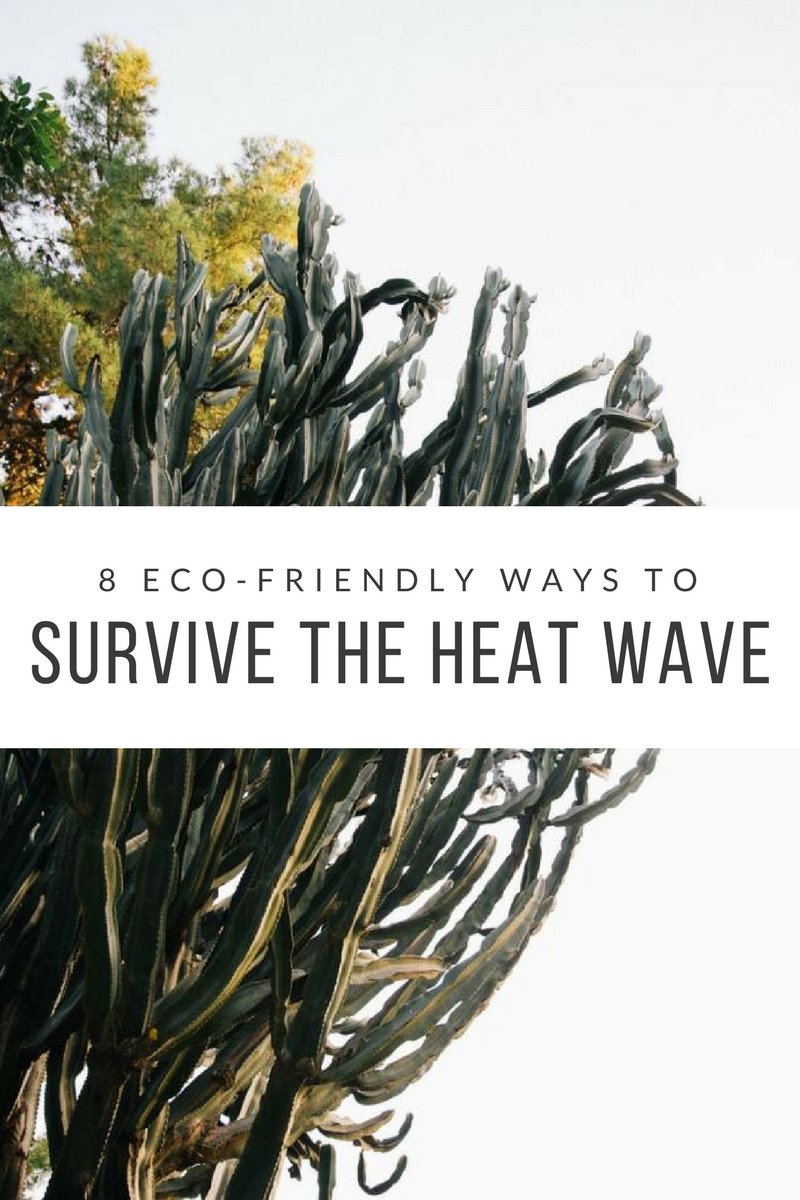 Happy Monday! How was your weekend? What can I say, mine was H-O-T! We had a heat wave in Germany and there weren't many things we were able to do apart from trying to keep cool. I'm not complaining though, I love that it's finally summer around here! Since showering all day or blasting the (in our case non-existent) AC aren't really eco-friendly or sustainable, here are my top tips how to keep cool and not put more pressure on our environment.
Resist drinking ice-cold beverages all of the time
Your body uses energy to warm these up to your body temperature so you will feel hotter despite drinking something cold. Same goes for the ice-cold shower.
Make your own ice cream
I have wanted to try making home-made ice cream for ages. A couple of days ago I finally got a book full of recipes, Eiszeit by Shelly Kaldunsky. It is filled with so many interesting and yummy recipes (like orange kardamom ice cream!) that I can't wait to try. I even hope the heat wave might stay longer, so I can try more recipes ;) Gladly, my little brother got an ice cream maker for his birthday because the recipes only work with one (only downside to the book). First up on my list are cream cheese ice cream sandwiches, followed by espresso ice. Yum!
Have a cold foot bath
This is especially helpful if you are working/studying from home and already have to sit at your desk.
Make home-made iced tea
One bag of mint and one bag of black tea in a bottle with cold water in the fridge for an hour: Perfect iced tea.
Take a trip to the library
Or Ikea. Or the grocery store. Anywhere it is cooool.
Draw the blinds as soon as the sun comes around
Instead, let the sun in early in the morning, while it's still cool outside.
Live off watermelon and ice cream
Quite a good lifestyle even if there's no heat wave, at least in my opinion. And if you made the ice cream yourself, you even know there's no weird stuff in there.
Eat cold meals so you don't need to use your oven or stove
Salads – 1,2,3, go!
Need to use the AC?
Make it about 5 degrees colder than your surroundings, nothing more. So for example, if it's 30 degrees outside, set your AC to 25 degrees. You will feel refreshed and don't risk a cold that easily too!
These are my tips, what are yours? Any ideas how to keep cool in this weather?
Picture by Helena Rae/Newfound Press.