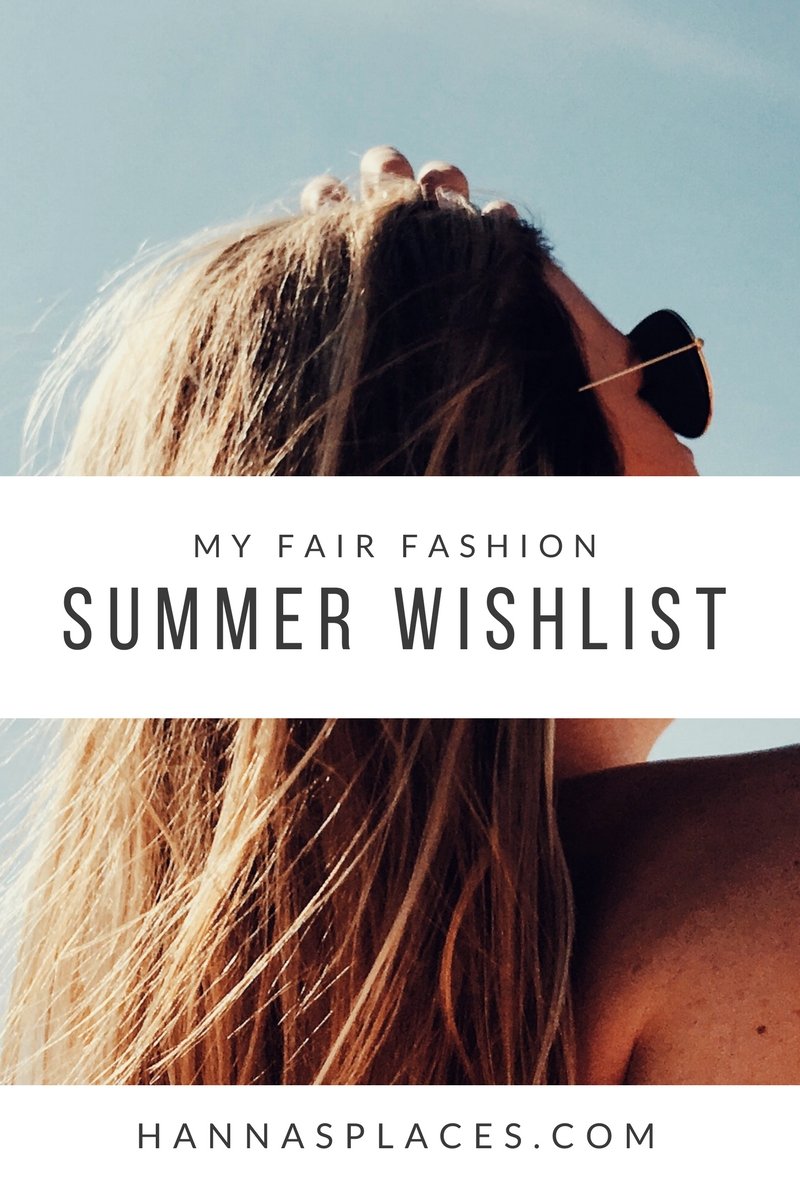 Summer is approaching, I can feel it in the air! The days are longer again and ice cream season has officially started. As I told you, I make a list of clothes to buy at the beginning of each season. This summer, I am looking for fun and light-weight looks to make it a beautiful summer season full of great memories. This is my fair fashion summer wishlist, if you're looking for some inspiration as well!
Fair fashion summer wishlist: Tops
+ A fun and light-weight blouse: I've recently rediscovered wearing fun blouses again! Since I work at an office, I am looking for summer looks that feel cool on my skin and still aren't too revealing. A light blouse perfectly fits the bill, and this one from Thinking MU has sushi on it, so it's definitely on my to-buy list ;)
+ An oversized white blouse: On days when I don't want to wear sushi, white oversized blouses always do the trick. They look great with tan skin and just a bit of golden jewellery. I just ordered this one from JAN 'N JUNE, it's extremely comfortable!
+ A grey t-shirt: Another summertime staple. Yet I only just ordered my first one: A simple, grey and oversized t-shirt. You can wear it with a know and a skirt, or with shorts and red lipstick. So simple and yet so pretty!
+ A block-printed t-shirt: I love simple statement t-shirts, that are slightly boxy and look great with some fun jewellery. This one from Po-Em is handmade and just screams summer to me!
+ A statement tee: Another trend I am embracing this summer – and I'm so glad my fair fashion favourites are too! I'm gonna start with this Beach Please shirt, because that's probably going to be my thought all summer long!
+ The classic: Stripes, stripes, stripes. Striped shirts aren't on my list this year (I stocked up last summer). Still, I needed to include them here! Stripes are such a summer staple for. People Tree puts out some new shirts every season and they always look great.
Fair Fashion Summer Wishlist: Dresses
+ A maxi dress with a twist: Yep, maxi dresses are here to stay another summer. This year, I want to get this one, which has a slit up to the knee so walking doesn't turn out to be too difficult. Can't wait to stroll around the city like this!
+ A lightweight linen dress: In the heat, one of my favourite materials is simple linen. This dress from Thinking Mu is really beautiful and hopefully a good companion for hot weather as well!
+ An oversized striped dress: Yep, stripes are perfect as dresses too! I've had my eyes on this oversized number from Kings of Indigo for a while now, and I think this summer I will finally get it!
Fair Fashion Summer Wishlist: Bottoms
+ A light-weight pair of culottes: While in Leiden last weekend, I bought a crazy (for me) and super light pair of culottes at a vintage store. It's oversized and pleated and I really love it! In my opinion, culottes are another great office look. They are airy and light, but you still don't reveal too much skin.
+ A fun pair of shorts: Armed Angels makes great shorts, and these are another summer staple for me.
And that's it, my list of summer essentials. I believe with these 11 pieces (along with some jackets and jeans for colder days) I will get through summer feeling good and without suffering from the heat too much. What about you? Which pieces are on your summer wishlist?