Last weekend, rather on a whim, I went for a little weekend trip to Antwerp. In my opinion, it's the perfect place to go for a little sightseeing, shopping and coffee-shop hopping. It's quite close to Germany as well, so on Friday, after work, we jumped onto the train and arrived in sunny Antwerp in the early hours of the evening.
Antwerp is small enough that you can walk everywhere, so that's what we did. After setting down our bags at our lovely Airbnb we headed off for the old town and took a walk along the pier. The weather was sunny and perfect, so it was easy to feel relaxed and 'on holiday' after just a few minutes.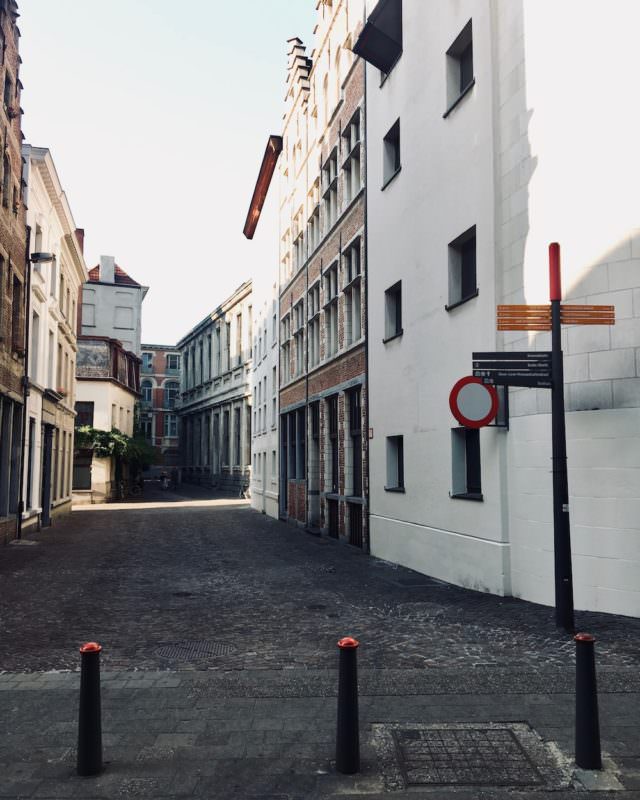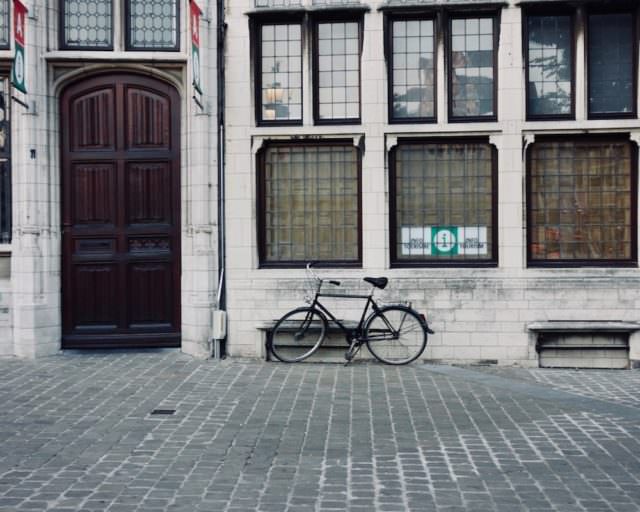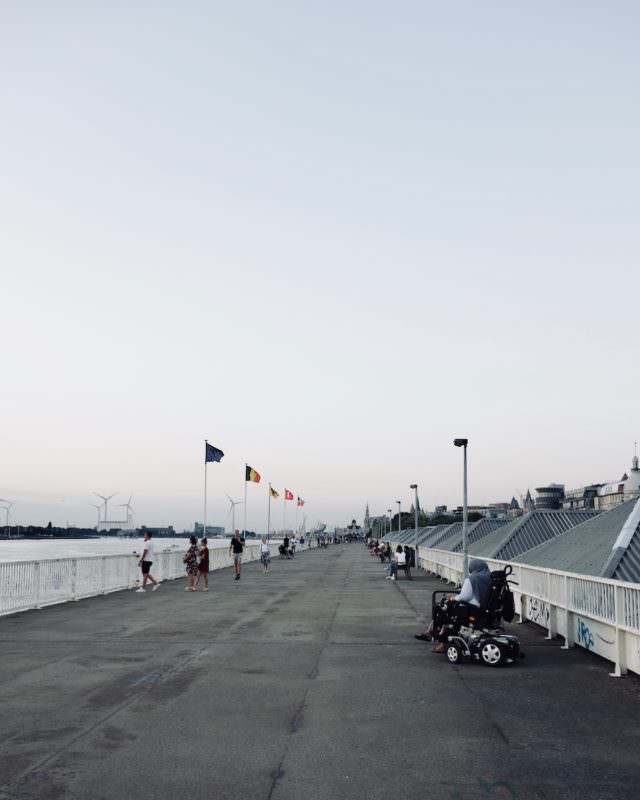 Of course, for dinner we headed out for some chips – you need to eat chips while in Belgium. When we were full and happy we went back to our airbnb for a beer and to enjoy the evening. Originally we planned on going to some bar in town, but our apartment had the perfect rooftop. It oversaw the whole town, so we had the nicest place for a drink right at our fingertips. Added bonus: We could fall right into bed once we were tired.
You can see the rooftop in the picture below, isn't it gorgeous?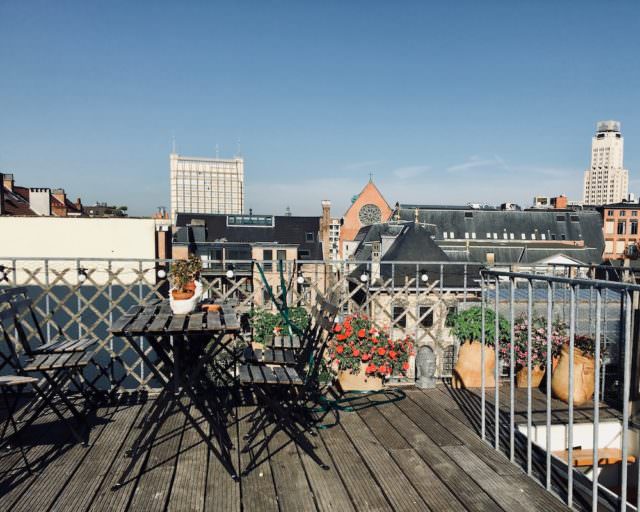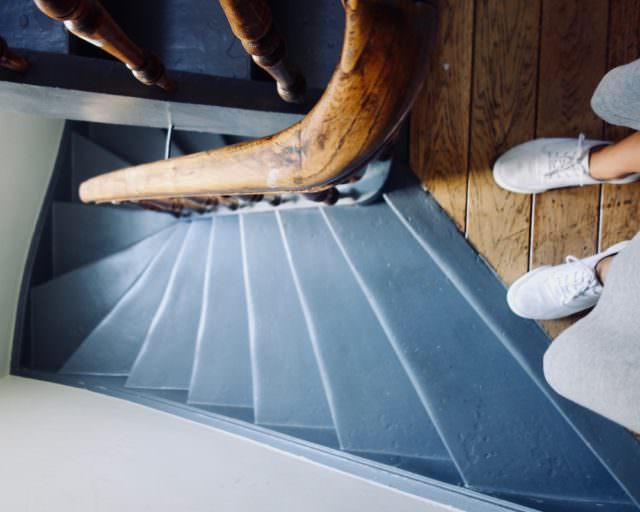 A day of exploring Antwerp
The next day, after a lovely rooftop breakfast of eggs and fruit, we made our way into the city. For me, the perfect trip means walking through the streets, getting a little lost and only loosely following a route. I marked all the places I wanted to see on Google Maps and we walked along like a little scavenger hunt.
Antwerp is full of antique shops, cute boutiques, small squares and cafés, so it's easy to just wander the streets. I found some amazingly cheap croquery at Oxfam, a beach towel for my upcoming holiday and even a secondhand summer skirt for 1,99 €. On our way we stopped for a waffle for lunch (again, what else to eat in Belgium?) and simply enjoyed the sunny summer day.
At around 3 pm, we were completely beat from all the walking. We stopped for a coffee in one of the stylish cafés, sat and chatted. It really was the most relaxed day, nothing like you imagine a small weekend city trip at all!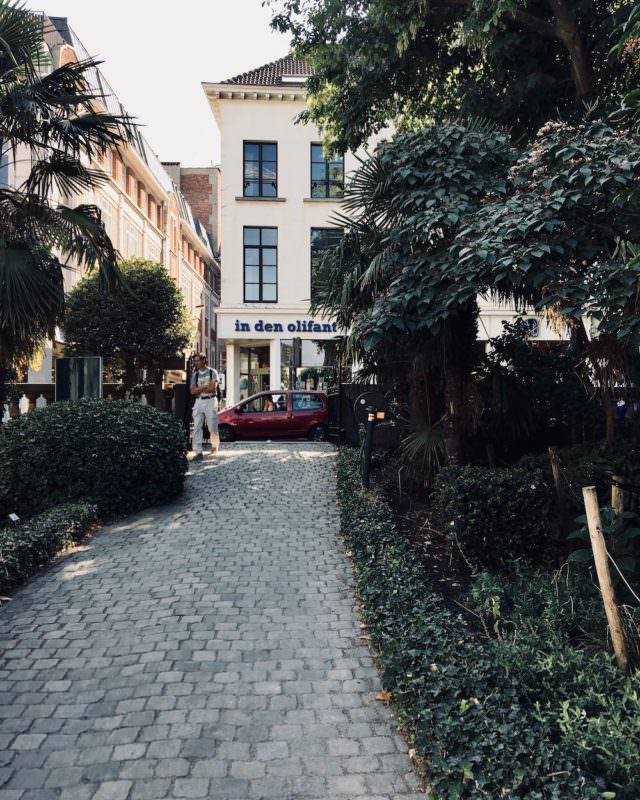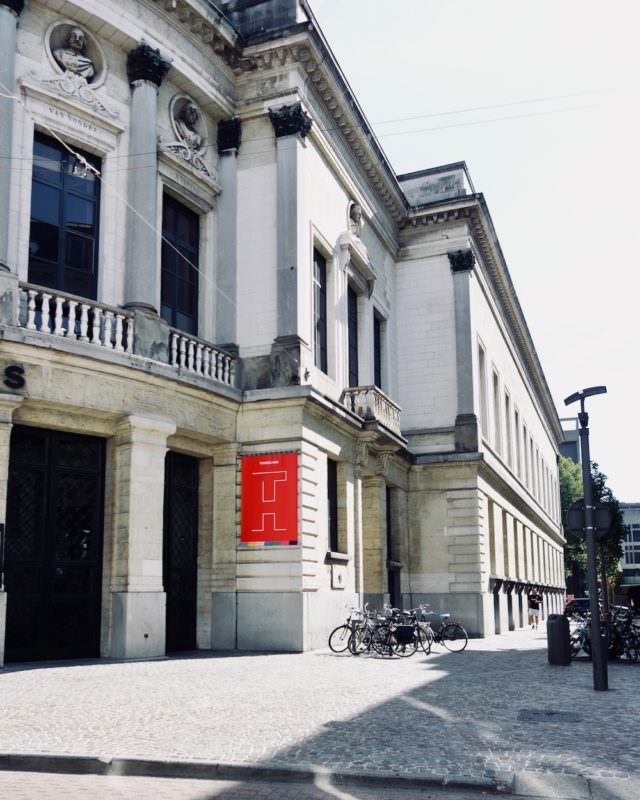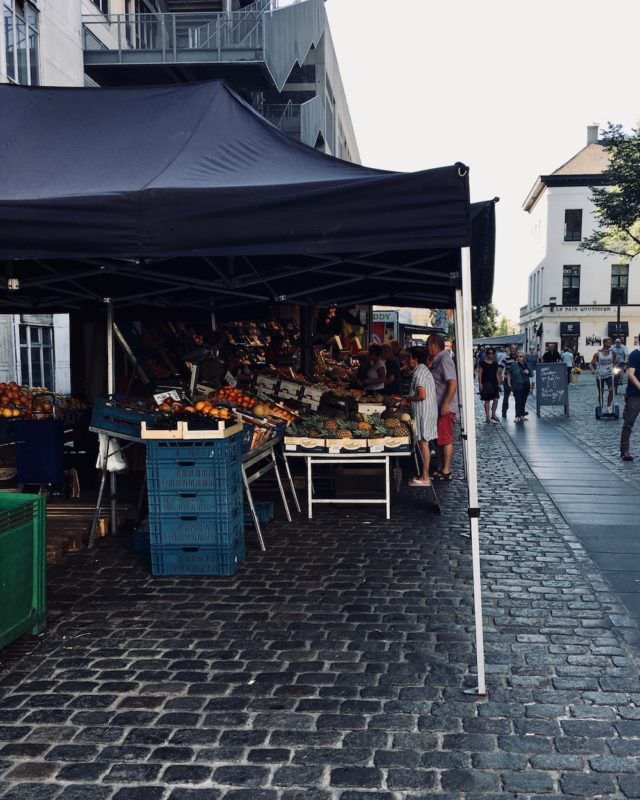 After we got some of our strength back, we headed north towards the harbour and the Museum aan de Strom. We took a long view over the city of Antwerp (it's free from the viewing platform of the museum!). After walking around some more, we then went back to the city centre for some dinner and our train home.
Honestly, I couldn't have imagined a better short trip to get some new ideas and inspiration. It wasn't too expensive or far away, but still a break from routine. If you ever want to go, I listed my favourite places below. Still, there are probably way more places to explore!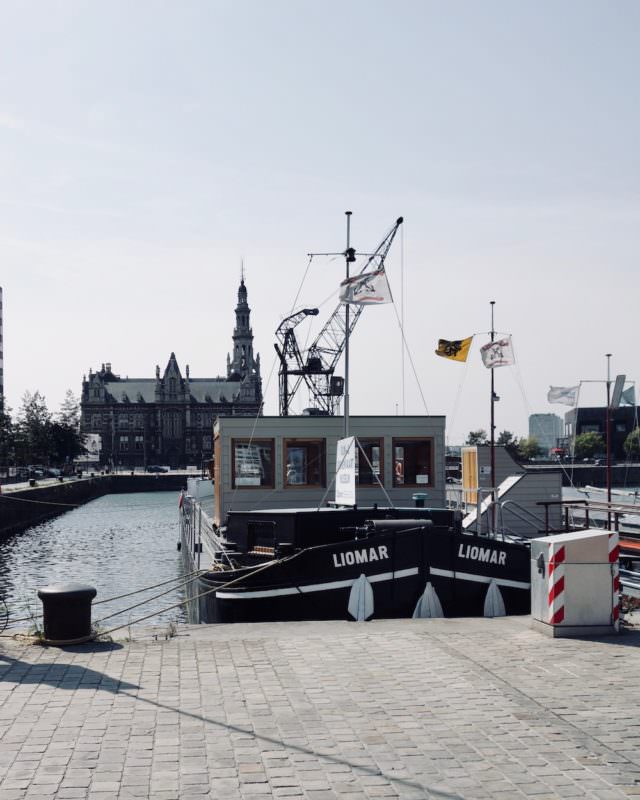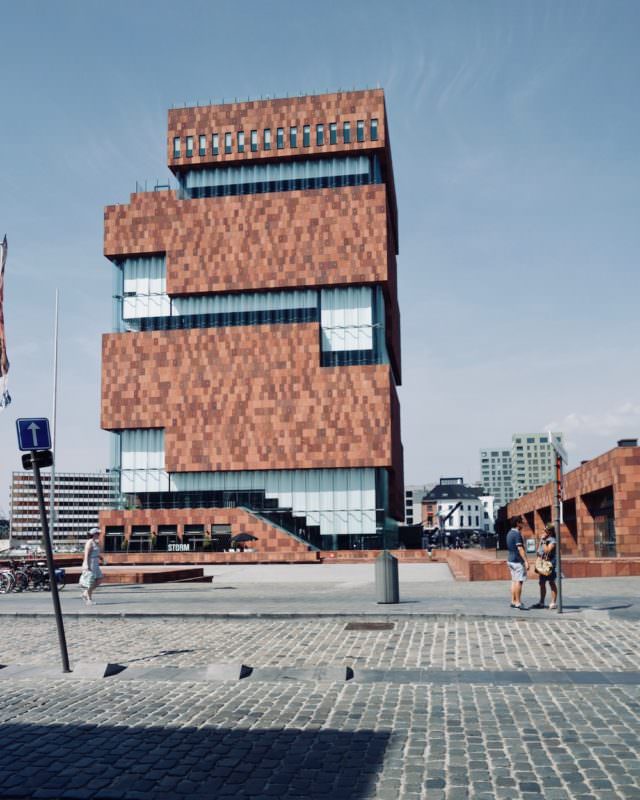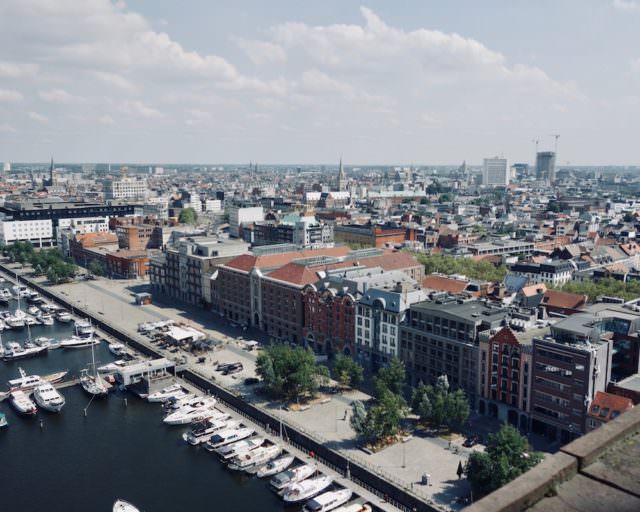 Where to go
Museum aan de Strom: As mentioned, the museum has a great viewing platform to see the whole city. You should definitely go there, especially since it's free! I have never visited the museum before so can't tell you much about that, but if you're staying for a longer visit you could definitely go there too.
Botanische Tuin: For the past couple of years, I have come to enjoy Botanical Gardens a lot more! Maybe that's a sign of getting older? Anyway, the one in Antwerp is quite small, but right in the middle of the city, so you should check it out for a little break from the city streets.
Vrijdagsmarkt: This is just one example for all the great little squares all over Antwerp. If you want a break from walking around, just sit down on a bench and relax. Great for people watching too.
Cathedral and Grote Markt: You probably can't prevent going there, since it's right in the middle of the town, but for completeness sake, I included this place in the list. Grote Markt is the touristy centre of Antwerp, so there are loads of people and it's not quite as relaxed as the rest of the city. Nevertheless, it's a beautiful spot and no trip to Antwerp would be complete without going here.
More great places I didn't visit this time: Modemuseum, Plantin-Moretus-Museum

Where to shop
Melting Pot Antwerp: This is a kilo vintage store that's full of little gems. I found a cute summer skirt here and only paid 1.99! Even better, the store feels like a 'normal' store. Everything is clean and neatly arranged, so it's not like you're rummaging through junk.
Sissy Boy: I'm not quite sure whether Sissy Boy is a Dutch or Belgian brand, I've visited stores in both countries before. This means it's not unique to Antwerp, but they are full of beautiful home and fashion pieces.
Gaest: This is probably not a place to shop since everything is really expensive, but it's a great home decor store full of beautiful stuff (you probably don't need…).
Moose in the City: Right next to Gaest, this is another home decor store featuring brands like Bloomingville, HAY, House Doctor etc. So again, not 'traditional Antwerp/Belgium', but a beautiful store to take a look at.
Klosterstraat: Klosterstraat is full of little cafés and especially antique stores. If you arrived in Antwerp by car, it's definitely worth it to visit all the furniture stores full of really special pieces. If you don't have a car, it's still worth going there – maybe you find a small and unique piece to take home?

Where to eat/drink
Bia Mara: This is a centrally located fish & chips shop. I didn't eat any fish since I'm veggie, but the chips are some of the best I've ever tasted (and the portions are huuge, so it's totally fine to split one between two people).
Normo: We went here for some coffee and the café has the most relaxed and chill atmosphere. If I lived in Antwerp, this could probably be a favourite hangout spot.
Coffeeshops on my list I didn't visit (the trip was too short!): Caffénation, Kaffeenini, Tinsel.
Restaurants I wanted to try: ChickPea, L'épicerie du Cirque "under the Palm Trees"
Bars to visit: dogma Cocktails, Vitrin
There are probably way more places to see and stuff to do, so I can't wait to be back soon! Did you ever go to Antwerp and do you have any tips for this list? Since I couldn't decide, here are a few more pictures from our great trip. I hope they make you want to go there, too!