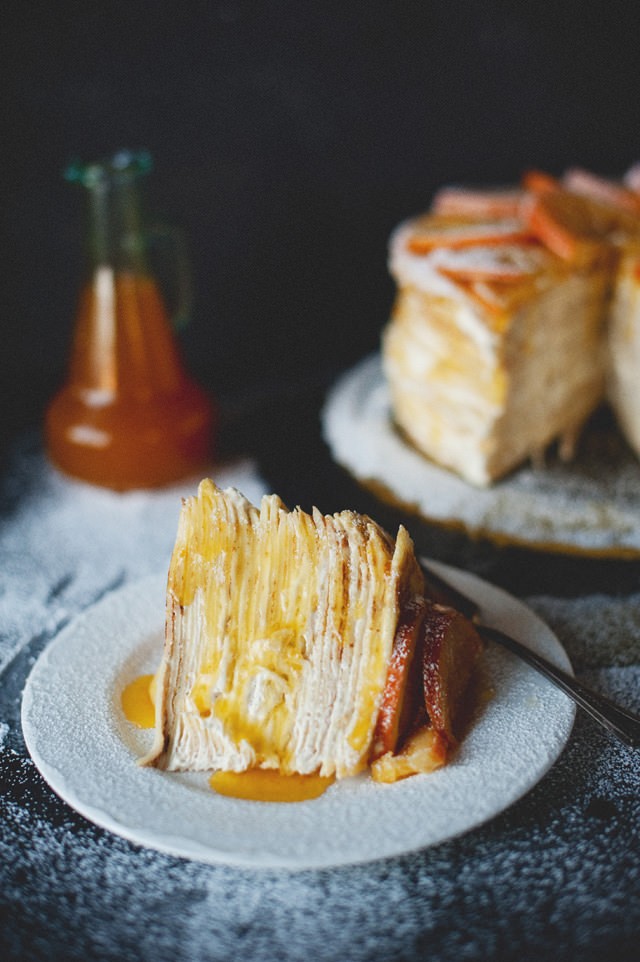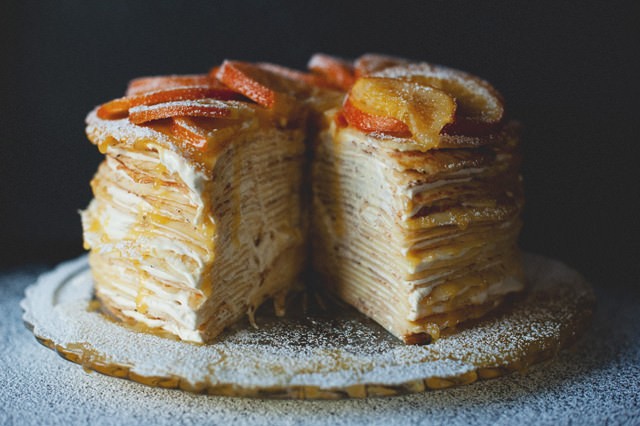 Crepe suzette cake: It sounds fancy and looks very pretty. Sometimes, on Sunday afternoons, I'm actually in the mood to bake something fancy like that. That's why I'm really happy that Michelle from the Little White Kitchen has adapted this crepe suzette cake recipe for Hanna's Places to share it with you. It looks almost to good to eat, doesn't it? I'm going to take my time and make it over the holidays, maybe even for Christmas. What about you?
Michelle's crepe suzette cake
Michelle: Call me crazy, but I love making desserts that are relatively simple to make, but require quite a few steps to get to the finished product. Layers of flavours and time for those flavours to become enhanced, multi-step desserts have a quality to them that a simple one bowl dessert can never match. Bring on the crepe suzette cake.
Take your time, give yourself a couple of days to make each and every piece of the cake puzzle and enjoy every moment. It's not a process to be rushed and the end result will be worth the time spent, so plan your time accordingly and remember that the best things take a little time.
I want to thank Hanna for asking me to write a guest post for her blog, especially since my crèpes pan is now officially dusted off and I made something I probably wouldn't have made without a challenge to use citrus in a dessert.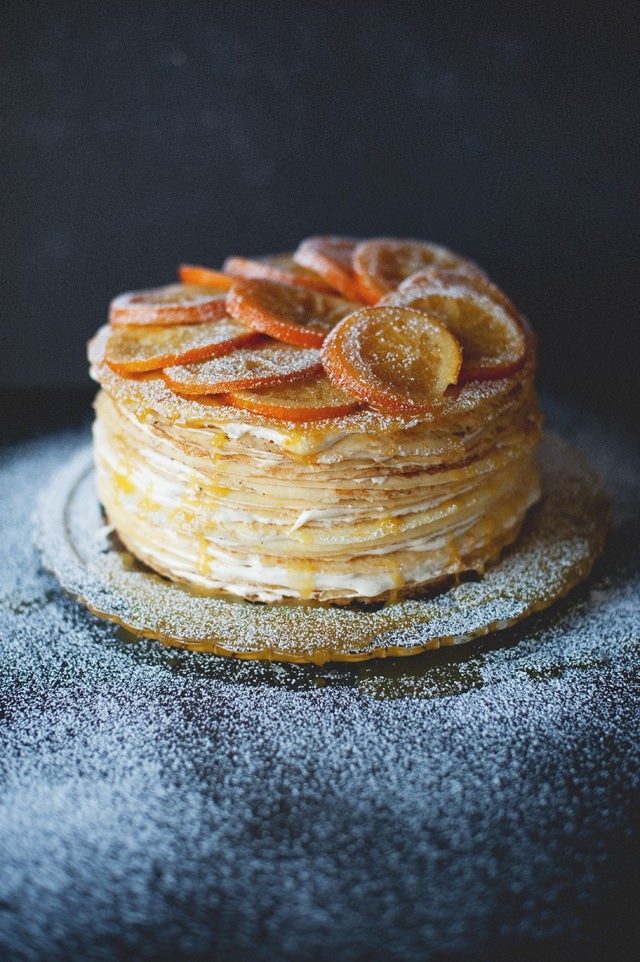 Gluten-Free (or not) Crepe Suzette Cake
5 cups xanthan-gum free Gluten-Free flour (recipe to follow)
1 tsp. salt
10 eggs, room temperature
10 tbsp. unsalted butter, melted
zest of a large orange
7 1/2 cups whole milk, room temperature
In a large bowl, whisk together the flour and the salt. Add the butter and the eggs and whisk until well blended. Slowly pour in the milk, whisking as you go, to make a thin batter.
For best results, make the batter and chill for a couple of hours before making the crèpes, even for a couple of days if needed.
Heat a crèpe pan (or another type of frying pan) and brush with melted butter. Pour 1/3 of a cup of batter onto the pan and tilt the pan to coat evenly. Cook for 1-2 minutes on medium heat until the edges are crisp and the surface of the crèpe is set. Using an offset spatula gently flip the crèpe and cook for another 20-30 seconds.
Remove from the heat and place onto parchment paper.
With the remaining crèpes, cook them and then stack them with parchment paper in-
between each one. You can make the crèpes ahead of time and then assemble the cake the following day, or freeze them and thaw them out later for use at another time.
Makes about 30 crèpes.
Gluten-free flour blend
972 grams superfine white rice flour
324 grams potato starch
174 grams tapioca starch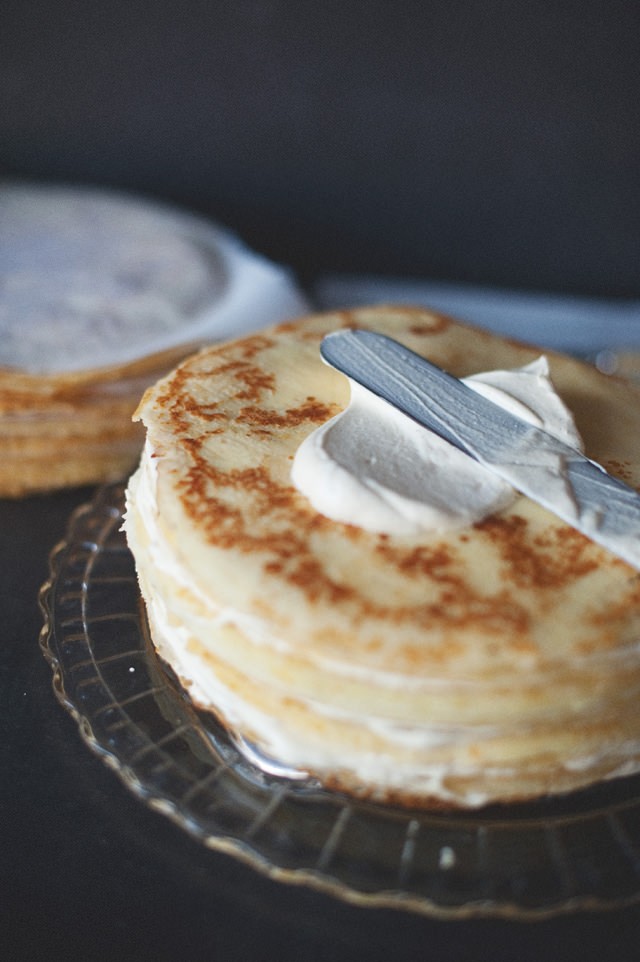 Pastry Cream
1 ¼ c whole milk
2 tbsp gf flour
3 egg yolks
2 cups heavy cream
¼ c sugar
2 vanilla beans, split and scraped
⅓ c powdered sugar
2 tsp vanilla extract
In a medium bowl whisk together the egg yolks, sugar and GF flour. In a medium saucepan whisk together the milk and the scraped vanilla pods and the seeds. Bring to a simmer, turn off the heat, set aside and allow to steep for 1/2 hour. Bring the milk back to a simmer and then slowly pour into the egg yolks while whisking quite vigorously.
Once you've whisked all the milk into the egg yolks, pour the entire mixture back into your saucepan and cook on low heat while stirring constantly, until the mixture thickens to the consistency of pudding and coats the back of your spoon.
Strain the custard through a fine mesh strainer into a medium bowl, discard the vanilla pods, and place a piece of plastic wrap directly onto the custard to form a skin.
Chill until set, at least 2 hours.
This can be made a day or two in advance.
Once the custard has set and you're ready to assemble the cake, beat the whipping cream and the powdered sugar until stiff peaks form, and gently fold the whipped cream together with the custard. Use immediately.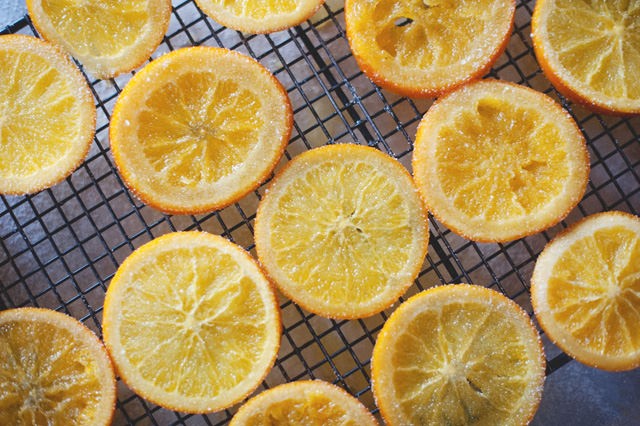 Candied Oranges
1 1/2 cups water
1/2 cup sugar
1 large navel orange, slice crosswise 1/8 inch thick
Extra granulated sugar
In a large skillet heat the water and sugar until it boils. Add the orange slices and simmer over medium heat, turning occasionally, until the liquid is reduced to a thin syrup and the oranges are slightly translucent. About 20 minutes.
Set the oranges on a cooling rack set over parchment paper. Allow to cool.
Sprinkle both sides of the orange slices with generous amounts of granulated sugar.
Allow to set.
Orange slices can be kept sealed in the fridge for up to a week.
Orange Butter
1 lb butter unsalted butter
2 cups granulated sugar
2 cups freshly squeezed orange juice
1 lemon, juiced
4 teaspoons orange zest
1/4 cup Grand Marnier
Combine the butter, sugar, citrus juices, and zest to a small saucepan and cook for about 10 minutes until it reaches 180-200F, or until is slightly caramelizes. It should be a golden color. Remove from heat, add the Grand Marnier, return to the heat and continue to whisk and simmer for another 2 minutes. Allow to cool to room temperature.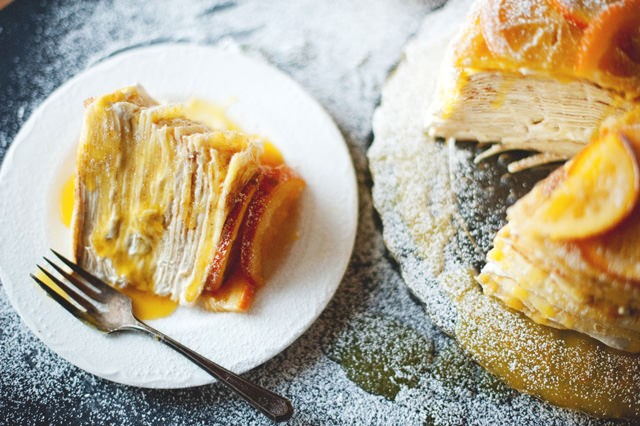 Assembling the crepe suzette cake
Place a crèpe on a cake board or cake plate and spoon 2 tbsp. of pastry cream onto it. Spread the cream thinly and cover with another crèpe. Repeat this process until you've used all the crèpes or all of the pastry cream. The top crèpe doesn't get covered in pastry cream.
Cover and chill the cake for at least 2 hours, or overnight, until set.
Pour a generous amount of Orange Butter over the entire cake, allowing to drip down the sides. Decorate the top of the cake with the candied orange slices and sprinkle the entire cake with sifted icing sugar.
Slice and serve the cake, drizzling some more sauce over each piece.
Thanks so much Michelle for this wonderful recipe. I can't wait to try it over the holidays and take all my time, just as Michelle has described.
All pictures of the crepe suzette cake taken by Michelle for Hanna's Places
MerkenMerken